4 Healthcare Stock Stories for a Tuesday Investment Checkup
GlaxoSmithKline (NYSE:GSK): Closing price $51.85
GlaxoSmithKline reports the FDA approval of its quadrivalent formulation of intramuscular Flulaval. Flulaval Quadrivalent has been cleared for the prevention of influenza caused by types A and B strains in adults and children aged 3 years and older. Flulaval Quadrivalent helps fight against two strains of influenza A and two strains of influenza B, thus giving it an advantage over the presently-available trivalent Flulaval version, which is only okayed for use in adults. The company expects the approval of Flulaval Quadrivalent to permit it to solidify its position in the market once it is made available in 2014.
Are these stocks a buy or sell? Let us help you decide.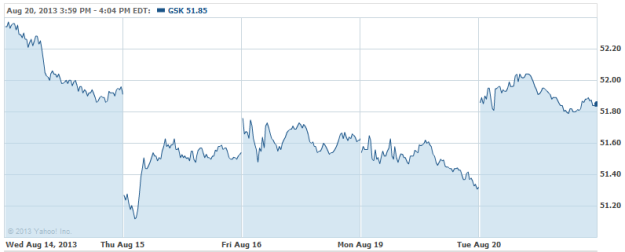 Abbott Laboratories (NYSE:ABT): Closing price $34.71
On Tuesday, Abbott said that it has closed on its $250-million purchase of the ophthalmic device firm OptiMedica Corp., which manufactures laser systems for cataract treatment. Abbott announced the agreement in July, at which time it said that the buyout may also include as much as $150 million in payments, if certain development, regulatory and sales milestones are attained. The buyer said that the transaction will help broaden its vision care business.
Are these stocks a buy or sell? Let us help you decide.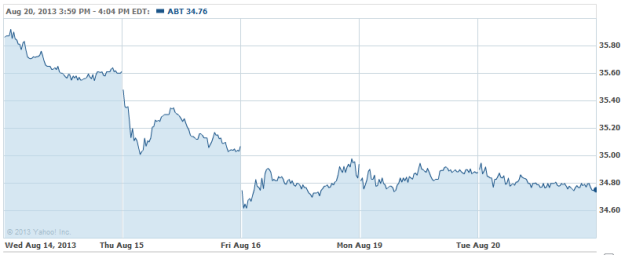 Repros Therapeutics Inc. (NASDAQ:RPRX): Closing price $19.80
Repros on Tuesday reported interim 6 month results from the first 150 subjects enrolled into the continuing one-year placebo controlled evaluation to assess the impact of Androxal treatment of secondary hypogonadal men and its effect on bone mineral density. There is no evidence of a deleterious effect of Androxal on bone health, but some evidence of improved bone mineral density.
At the 6-month time point, there is no evidence that Androxal lowers bone mineral density as assessed by DEXA scans. What is more, there exists some evidence that Androxal might be beneficial to bone health.
Are these stocks a buy or sell? Let us help you decide.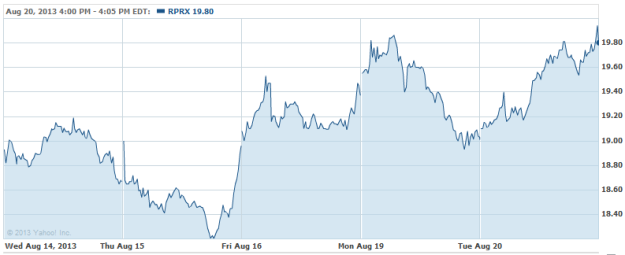 Novartis AG (NYSE:NVS): Closing price $74.73
Novartis announced Tuesday that the FDA has granted breakthrough therapy designation to BYM338 for the treatment of sporadic inclusion body myositis. Breakthrough therapy designation was created by the FDA to step up the development and review of new drugs for serious or life-threatening conditions. This designation is based upon the results of a Phase II proof-of-concept review that indicated BYM338 substantially benefited patients suffering with sIBM compared to placebo.
Are these stocks a buy or sell? Let us help you decide.