4 Healthcare Stock Stories for Friday Wellness
Discovery Laboratories (NASDAQ:DSCO): Current price $2.64
The specialty biotech firm has announced that it has entered into a secured loan facility with Deerfield Management Company for as much as $30 million in financing. Deerfield has in excess of $3.5 billion of assets currently under management.

Celldex Therapeutics (NASDAQ:CLDX): Current price $8.41
On Thursday, Celldex presented final results from a Phase 1 study of CDX-301 (recombinant human Flt3L; rhuFlt3L) in healthy volunteers which  strongly support the start of a pilot study in hematopoietic stem cell transplantation later in 2013. The data were presented by Vice President of Clinical Science Michael Yellin, MD in an oral presentation at the American Society for Blood and Marrow Transplantation 2013 BMT Tandem Meetings.
Are these stocks a buy or sell? Let us help you decide. Check out our Stock Picker Newsletter now.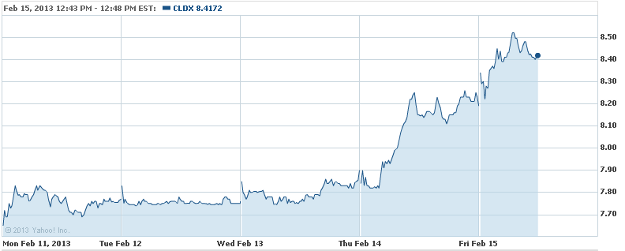 Shire (NASDAQ:SHPG): Current price $95.53
Shares of the ADHD drug maker tumbled Thursday as its once-top-selling Adderall XR treatment got a new generic competitor. Teva Pharmaceutical Industries (NYSE:TEVA), which is the largest maker of generic medicines on Earth, won FDA approval Tuesday for its version of Adderall XR, said the FDA website. A copy sold by Actavis created a "double negative effect" in 2012, in which Shire lost sales and and royalties from a version of the drug sold by Impax Laboratories, according to UBS analysts including Guillaume van Renterghem in a note Thursday.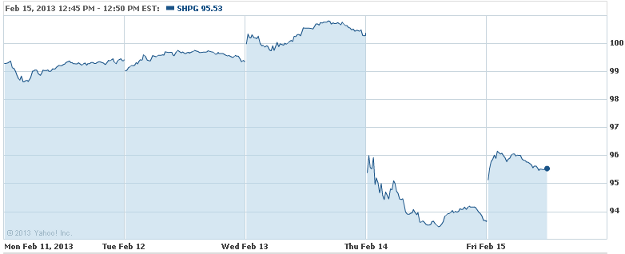 Progenics Pharmaceuticals (NASDAQ:PGNX): Current price $2.81
The firm has reported positive clinical data from a completed phase 1 evaluation of PSMA ADC, an antibody-drug conjugate created to selectively deliver chemotherapy to cells that express prostate-specific membrane antigen. PSMA ADC was typically well-tolerated in patients at doses up to and including 2.5 mg/kg, the maximum tolerated dose. Findings were presented at the 2013 Genitourinary Cancers Symposium which was co-sponsored by the American Society of Clinical Oncology, the American Society for Radiation Oncology, and the Society of Urologic Oncology.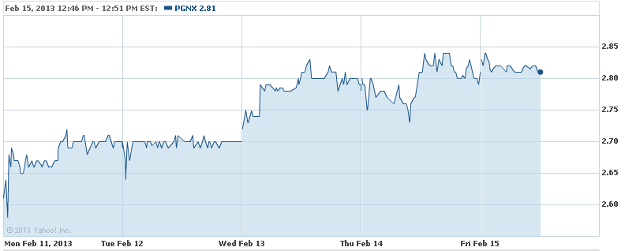 Don't Miss: Did Carl Icahn Load Up on Herbalife After the Great CNBC Battle?