4 Healthcare Stock Stories for Investment Wellness
Biolase (NASDAQ:BIOL): Closing price $3.37
The maker and distributor of dental lasers Biolase reported Wednesday that the FDA has approved the 940nm Diolase 10 diode soft tissue laser for use in 19 additional medical markets, including arthroscopy, ear, nose and throat; oral surgery, gastroenterology, general surgery, dermatology, plastic surgery, podiatry, GI/GU, gynecology, neurosurgery, ophthalmology, pulmonary surgery, cardiac surgery, thoracic surgery, urology, dermatology, aesthetics, and vascular surgery. This FDA clearance includes more than 80 different procedures.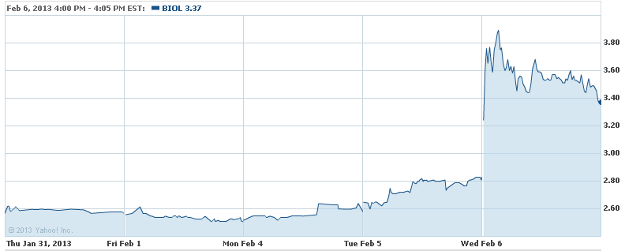 Are these stocks a buy or sell? Let us help you decide. Check out our Stock Picker Newsletter now.
Celldex Therapeutics (NASDAQ:CLDX): Closing price $7.64
On Wednesday, Celldex announced the pricing of an underwritten public offering of 12 million shares of its common stock, which will be offered at a price to the public of $7.50 per share for a total offering of $90 million of stock. The proceeds to Celldex should to be roughly $84,345,000, subtracting underwriting discounts and commissions and other estimated offering expenses payable by the firm. Celldex allows the underwriters a 30-day option to buy up to an aggregate of 1,8 million  additional shares. All shares in the offering will be sold by Celldex. The offering should close on or about February 11th, subject to the usual closing conditions.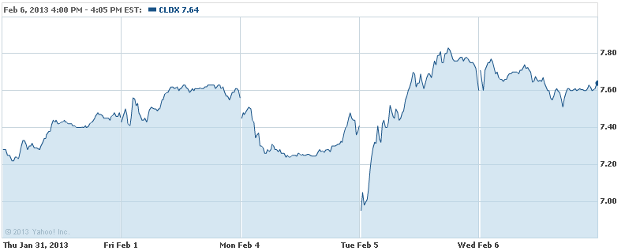 Magellan Health Services (NASDAQ:MGLN): Closing price $52.11
On Wednesday, Magellan and Performant Financial Corporation jointly reported a strategic relationship through which to offer payment integrity recovery services to the former's commercial specialty pharmacy customers through Magellan Pharmacy Solutions. Specialty pharmacy overpayment recovery is comprised of auditing customer claims data in order to identify inappropriate coding, billing, and payment of specialty pharmacy claims. The two parties debuted the combined audit and recovery services in 2012 with select customers, and will now broaden this offering to all Magellan Pharmacy Solutions commercial customers.
Derma Sciences (NASDAQ:DSCI): Closing price $12.26
The  medical device and pharmaceutical firm has begun enrollment of patients  in the first of two Phase 3 clinical trials with the company's investigational topical drug candidate DSC127. It is anticipated that the two pivotal trials will enroll a total of 1,055 patients, and are designed to evaluate the safety and efficacy of DSC127 in chronic, non-healing diabetic foot ulcers and to support the filing of a New Drug Application with the FDA.

Don't Miss: Is Life Technologies Likely to Outperform?