4 Healthcare Stock Stories for Investors to Take Daily
Pfizer (NYSE:PFE): Closing price $26.76
Pfizer might request an expedited review from the FDA for its treatment to slow a type of incurable breast cancer which is currently in Phase 2 trial, said Bloomberg, citing statements of Mikael Dolsten, head of worldwide research, who said at a JPMorgan conference that the firm has not yet reached a decision but is "obviously open to dialogues and advice from FDA and the European agencies regarding getting the drug to patients as soon as possible."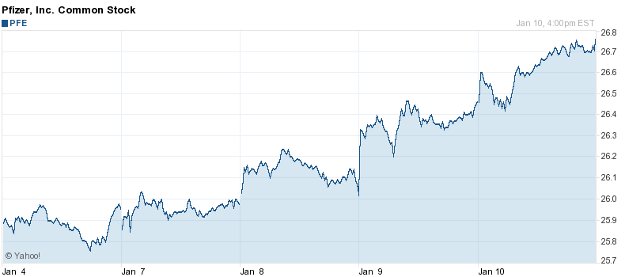 BioTime (AMEX:BTX): Closing price $4.37
The biotech firm BioTime has reported that it has submitted a Clinical Investigation Protocol to European regulators for approval to begin studies for its Renevia stem cell delivery platform. Ramon Llull, MD will serve as the Principal Investigator for the evaluation, and the planned trials will be conducted at the Stem Center in Palma de Mallorca, which is  operated by the GID Group, of Louisville, Colorado. Presently, BioTime is finishing the production of clinical materials, according to current Good Manufacturing Practice regulations. The start of human clinical studies is expected in the second quarter, upon approval of the CIP.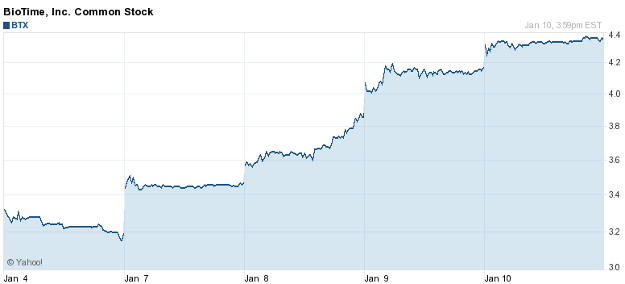 Are these stocks a buy or sell? Let us help you decide. Check out our Wall St. Cheat Sheet Stock Picker Newsletter now >>
Sagent Pharmaceuticals (NASDAQ:SGNT): Closing price $16.47
Sagent has said that because of the present critical shortage of Sodium Bicarbonate Injection in the domestic market, in  cooperation with the FDA, it has begun the temporary importation into the United States of a non-FDA approved 8.4 percent Sodium Bicarbonate Injection (1 mEQ/mL) from Phebra, a maker in Australia.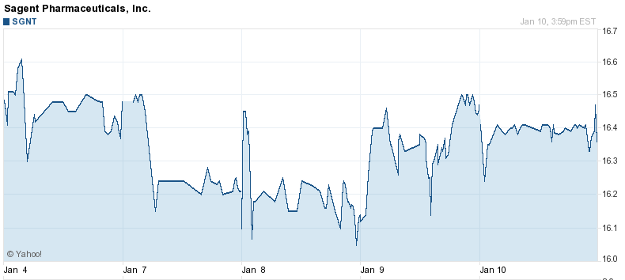 Verastem (VSTM): Closing price $11.04
The clinical-stage biopharmaceutical firm Verastem will collaborate with Laboratory Corporation of America Holdings (NYSE:LH), to validate biomarkers for its lead focal adhesion kinase inhibitor VS-6063 in the development of an applicable companion diagnostic. The biomarkers will be the focus of clinical studies in ovarian cancer and mesothelioma, including a potentially pivotal evaluation of VS-6063 in mesothelioma, which start is anticipated later in 2013.
Don't Miss: Here is the Who's Who of Pharmaceutical Lawsuits.