4 Healthcare Stock Stories for Mid-Week Wellness
Amarin Corporation (NASDAQ:AMRN): Current price $8.56
Amarin reported Tuesday that the United States Patent and Trademark Office has published notification for Patent Application Serial Number 13/614,129, which includes claims intended to protect the Vascepa (icosapent ethyl) indication okayed by the FDA based on Amarin's MARINE clinical trial results. Amarin is a biopharmaceutical firm focused on the commercialization and development of therapeutics to improve cardiovascular health.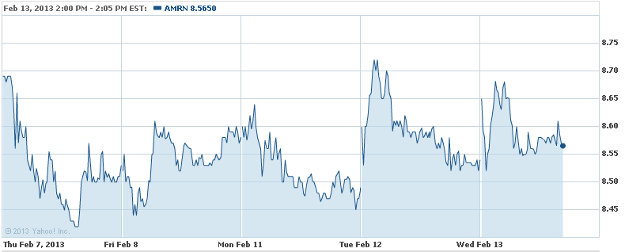 OncoGenex Pharmaceuticals (NASDAQ:OGXI): Current price $11.90
The firm has announced its intentions for the start of the Borealis-2 clinical trial, an investigator-sponsored, randomized, controlled Phase 2 study evaluating OGX-427 in patients suffering from advanced or metastatic bladder cancer and disease progression following initial platinum-based chemotherapy treatment. The trial is the fourth Phase 2 study of OGX-427 in a genitourinary cancer, and will investigate to see if combining OGX-427 with docetaxel, a standard option in salvage treatment for metastatic bladder cancer, improves survival compared to docetaxel alone.
Are these stocks a buy or sell? Let us help you decide. Check out our Stock Picker Newsletter now.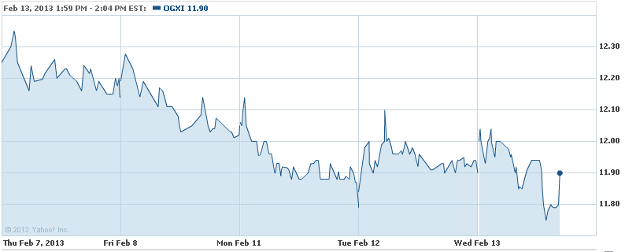 StemCells (NASDAQ:STEM): Current price $1.91
The company says that the twelve-month data from the first patient cohort in its Phase I/II clinical trial of its proprietary HuCNS-SC-R product candidate (purified human neural stem cells) for chronic spinal cord injury continued to exhibite a favorable safety profile and also indicated that the considerable gains in sensory function observed in two of the three patients at the six-month assessment have persisted. The third patient remains stable. A summary of the data was presented Tuesday by President and Chief Executive Martin McGlynn at the 15th Annual BIO CEO & Investor Conference. By the completion of the twelve-month assessment, the first patient cohort has now finished the trial and has entered into a separate follow-up study for long-term observation.

Boston Scientific Corporation (NYSE: BSX): Current price $7.44
The corporation has received CE Mark approval for the Promus PREMIER Everolimus-Eluting Platinum Chromium Coronary Stent System, representing its next-generation durable polymer drug-eluting stent tech, and is commencing its European market launch. The System was created to provide physicians improved DES performance in treating patients suffering from coronary artery disease and is the sole platform to feature a customized Platinum Chromium (PtCr) stent architecture, the market-leading Everolimus drug coating and fluorinated co-polymer along with an enhanced stent delivery system.

Investing Insights: Should Sane Investors Consider Celsion?