4 Healthcare Stock Stories for Midweek Investment Wellness
Dendreon Corp. (NASDAQ:DNDN): Closing price $2.79
On Wednesday morning, analyst Michael Yee at RBC Capital released a note on shares of Dendreon, suggesting his "best and easiest" solution for the company. Yee opined that a Dendreon sale price would likely not be far higher than its present price and thinks that the company's fairly high enterprise value would likely be the reason for the situation.
The analyst posited a 70-percent likelihood that Dendreon shares will stay at current levels or fall notably lower to $1 long term. Beyond that, Yee placed a 30 percent-chance that Dendreon could announce a partnership within Europe or sell assets, driving shares into the $3 to $4 range. He maintains a Sector Perform on Dendreon and reduced his price target from $5 to $3.
Are these stocks a buy or sell? Let us help you decide.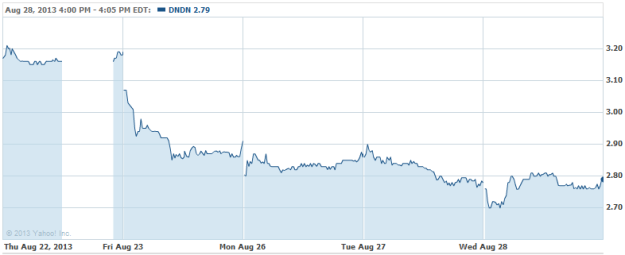 Horizon Pharma, Inc. (NASDAQ:HZNP): Closing price $2.52
Horizon has announced that it, together with SkyePharma, from whom it has licensed certain RAYOS intellectual property, has filed a patent infringement lawsuit in the United States District Court for the District of New Jersey against Watson Laboratories, Inc. Florida. This includes certain related firms and connected with an abbreviated new drug application that WLF filed with the FDA so as to market generic versions of RAYOS containing 1 mg, 2 mg, and 5 mg of prednisone.
Are these stocks a buy or sell? Let us help you decide.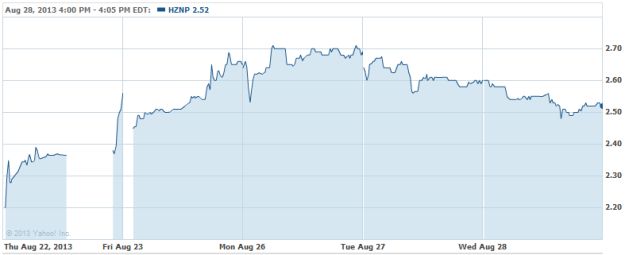 Imprimis Pharmaceuticals, Inc. (NASDAQ:IMMY): Closing price $6.23
Imprimis, which is centered upon the commercialization of drug formulations via a growing proprietary network of compounding pharmacy relationships, and by employing the FDA 505B2 development pathway, says that it has purchased intellectual property, including a provisional patent application, linked with an ophthalmic compound for intraoperative ocular injection of anti-inflammatory and anti-bacterial agents.
Imprimis believes this formulation possesses the potential to significantly affect the rapidly-growing $5 billion global cataract surgery drug market. The purchase permits Imprimis to follow the commercial development of certain proprietary innovations, and also provides Imprimis with a preemptive right on additional Novel Drug Solutions and Eye Care Northwest intellectual property and drug development opportunities.
Are these stocks a buy or sell? Let us help you decide.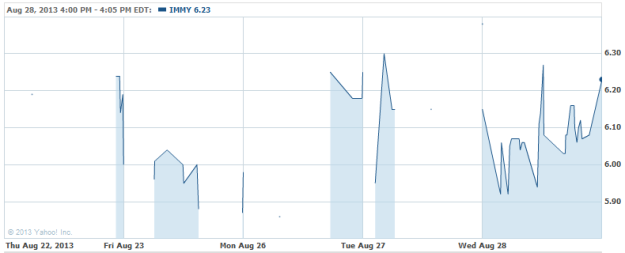 Kindred Healthcare, Inc. (NYSE:KND): Closing price $14.86
Kindred Healthcare said Wednesday that it will acquire Western Reserve Senior Care, based in Cleveland. The latter is a physician led, primary care practice that supplies care in home-based settings (assisted living facilities, independent living and home). Western Reserve's physicians, nurse practitioners, and nurses provide primary care, specialty care and urgent care services for seniors who are unable to leave home in the firm's Cleveland Integrated Care Market. Financials of the transaction were not reported. The transaction should close in the third quarter.
Are these stocks a buy or sell? Let us help you decide. Check out our Stock Picker Newsletter now.