4 Healthcare Stock Stories for Midweek Investment Wellness
GlaxoSmithKline Plc (NYSE:GSK): Closing price $53.32
Drug makers GlaxoSmithKline and Lupin Ltd. are among others who must deal with Indian distributors, whose insistence upon maintaining commissions could erode profits after the nation imposed price controls. Discussions are ongoing after traders temporarily boycotted certain treatments until their demands were addressed, according to Nilesh Gupta, managing director of Lupin, which manufactures anti-tuberculosis medicines. For their part, distributors want the terms of their commission to be brought back after drugmakers cut margins for traders after India's move to place a cap on prices of 348 essential remedies.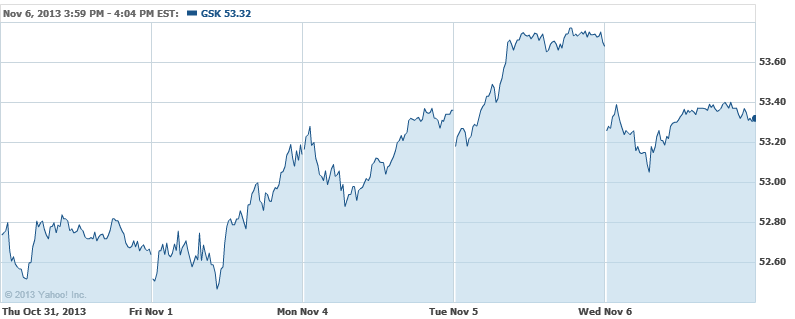 AbbVie Inc. (NYSE:ABBV): Closing price $48.07
In a pioneer evaluation examining the therapies' cardiovascular risk, testosterone replacement drugs, which have a $1.6 billion market for AbbVie Inc., Eli Lilly & Co., and others, increased the odds of suffering a heart attack, stroke or dying by 29 percent. Researchers studied data from 8,709 men treated in the Veterans Affairs health system, many having underlying illnesses that include prior heart attacks and diabetes. While the study did not describe reasons for the increased risk, testosterone makes sleep apnea worse and affects blood platelets, connected with atherosclerosis and coronary plaque. The authors urged more investigation on testosterone.

Incyte Corp. (NASDAQ:INCY): Closing price $37.40
On Wednesday, Incyte announced its intention to offer, subject to market and other conditions, $350 million aggregate principal amount of convertible senior notes due 2018, and $350 million aggregate principal amount of convertible senior notes due 2020 in a private placement to qualified institutional buyers, through an exemption from the registration requirements of the Securities Act of 1933. Also, Incyte will grant the initial purchasers of the notes an option to buy up to an additional $25 million aggregate principal amount of each series of the notes.

Bristol-Myers Squibb Co. (NYSE: BMY): Current price $52.04
The competition for the new generation of hepatitis C treatments goes forward as Bristol-Myers Squibb takes first place in requesting approval for an all-oral treatment independent of interferon and ribavirin. The company announced over the weekend its submission to Japan's Pharmaceutical and Medical Devices Agency for approval of its purely oral and interferon-free hepatitis C combination of daclatasvir with asunaprevir.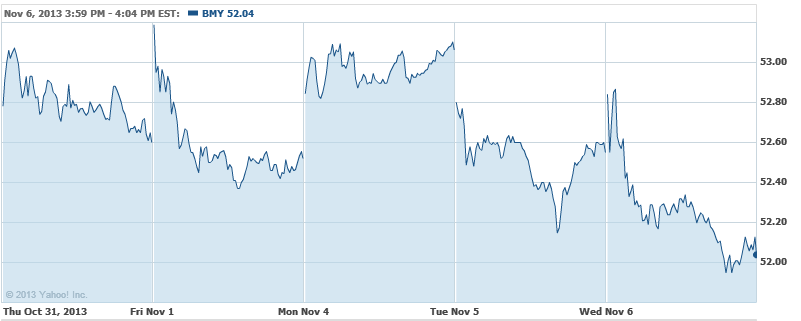 Don't Miss: Survey: Obamacare News Coverage Has Swayed Public Opinion.