4 Healthcare Stock Stories for Midweek Investment Wellness
Synergy Pharmaceuticals (NASDAQ:SGYP): Current price $6.36
On Tuesday, Synergy announced that it will offer to sell a total value of $90 million worth of its common stock in an underwritten public offering, or an aggregate value of $103.5 million of its common stock if the underwriters exercise their over-allotment option in full. The firm is a developer of new drugs for the treatment of gastrointestinal disorders and diseases.
Are these stocks a buy or sell? Let us help you decide. Check out our Stock Picker Newsletter now.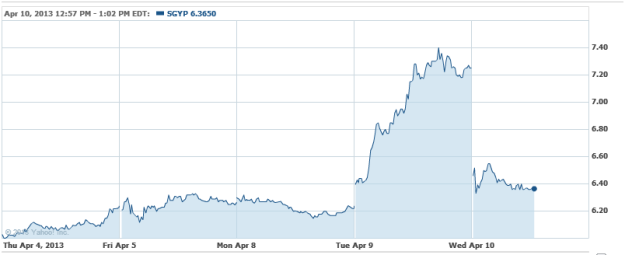 Medtronic (NYSE: MDT): Current price $47.25
Medtronic has reported the market release of its CardioGuide Implant System, a novel real-time navigation system for cardiac resynchronization therapy pacemakers and defibrillators, domestically and in Canada. The system aids physicians in determining the most appropriate location for left-ventricular lead placement by generating 3-D images of the cardiac veins. Improved software for the system will be commercially available later in 2013 that also analyzes the motion of select cardiac vessels on the left side of the heart. Clinical studies have indicated that appropriate left-ventricular lead placement could improve CRT response in heart failure patients.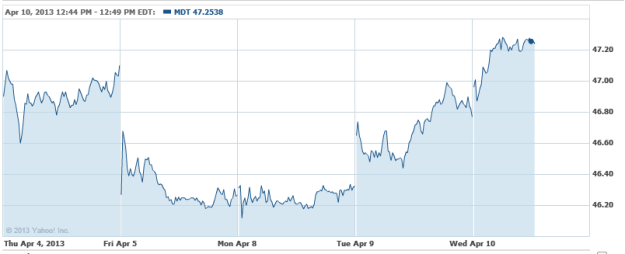 StemCells (NASDAQ:STEM): Current price $1.68
The firm on Tuesday said that it has closed a $10 million debt financing from Silicon Valley Bank. The loan funds will be utilized for general corporate purposes, and to increase the company's December 31, 2013 pro forma cash balance to $34.4 million. This total also includes $2  million in net proceeds received subsequent to the end of 2012 from the exercise of warrants and the sale of shares of common stock.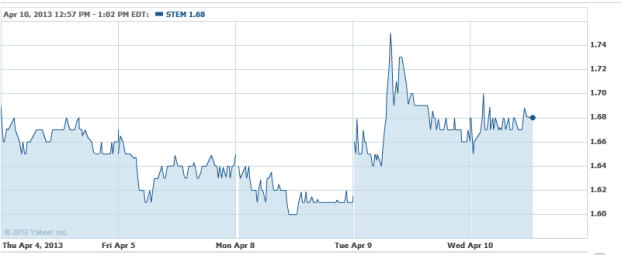 Geron Corporation (NASDAQ:GERN): Current price $1.17
Geron has announced a presentation of the final results from the Phase 2 evaluation of imetelstat, its first-in-class telomerase inhibitor, as maintenance therapy following platinum-based induction chemotherapy in patients suffering with advanced non-small cell lung cancer, at the American Association for Cancer Research 2013 Annual Meeting, currently taking place in Washington, D.C.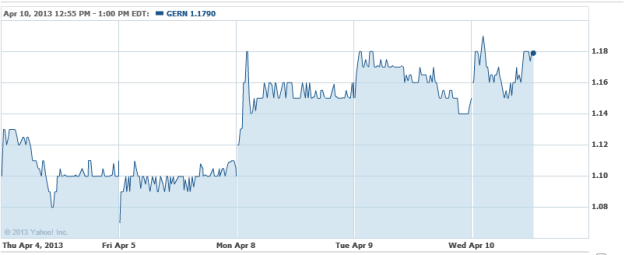 Investing Insights: Will Pfizer Continue This Bullish Run?