4 Healthcare Stock Stories for Prudent Investors
The Medicines Company (NASDAQ:MDCO): Closing price $28.83
The firm reported results on Tuesday for its pivotal Phase 3 clinical trial of cangrelor, in development to prevent platelet activation and aggregation which leads to thrombosis in the acute care setting, including in patients undergoing percutaneous coronary intervention. Subsequent to the recommendation of the trial's Data Safety Monitoring Board in July, to continue the protocol as planned, the CHAMPIONPHOENIX trial finalized enrollment in October. Folloiwng a successful data lock, the data analysis indicated that the protocol defined primary composite efficacy endpoint of death, myocardial infarction, ischemia driven revascularization, and stent thrombosis at 48 hours was met. Cangrelor showed statistically significant improvement when compared to clopidogrel.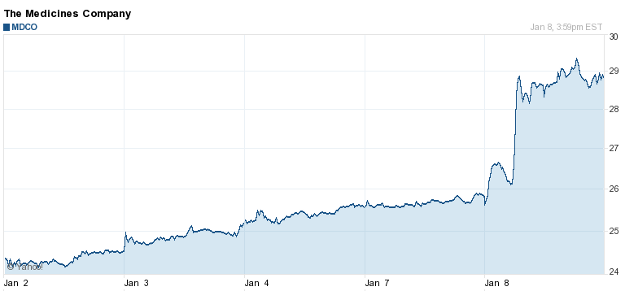 Pfizer (NYSE:PFE): Closing price $26.02
The European Commission has okayed expanding the use of Pfizer's pneumococcal conjugate vaccine, Prevenar 13, to older children and adolescents aged between 6 and 17 years for active immunization for the prevention of invasive disease, pneumonia and acute otitis media caused by vaccine-type Streptococcus pneumoniae. Patients in this age group who have not previously received Prevenar 13 may have a single dose of the vaccine. The study met all endpoints, indicating immunogenicity.
Are these stocks a buy or a sell? Let us help you decide.  Check out our Wall St. Cheat Sheet Stock Picker Newsletter now>>
Venaxis (NASDAQ:APPY): Closing price $2.46
The in vitro diagnostic firm Venaxis on Monday  reported it has fulfilled the requirements for CE Marking in Europe for APPY1, its blood-based appendicitis test. Initial commercialization in Europe is should begin in the first quarter in key territories, which include the United Kingdom, France, Italy, Germany and the Benelux countries.  Venaxis expects to announce arrangements with top European Union distributors starting in the current quarter.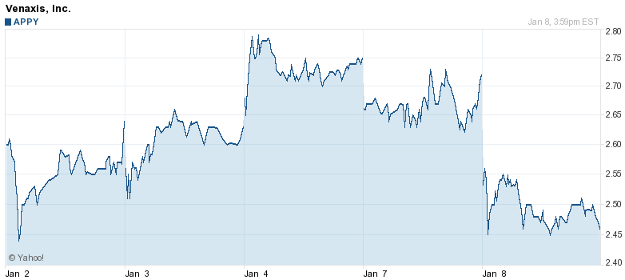 Johnson & Johnson (NYSE:JNJ): Closing price $71.41
The FDA said Tuesday that the firm's experimental diabetes tablet may carry heart risks, in a review that could delay the J&J's  first-to-market status for a new family of medicines. Evaluations for the drug canagliflozin, which expels urinary sugar after it has filtered from blood by the kidneys, indicated a potentially higher risk for heart events during the first 30 days, when compared with a placebo. An FDA advisory panel is scheduled to meet January 10th to make recommendations to the agency on the drug
Don't Miss: Are the Dogs of the Dow Getting Revenge?