4 Healthcare Stock Stories for TGIF Wellness
Vertex Pharmaceuticals (NASDAQ:VRTX): Closing price $45.44
Vertex said Friday that the Health Service Executive of Ireland will fund Kalydeco (ivacaftor), which represents the first medicine to treat the underlying cause of cystic fibrosis, for patients aged 6 and older who have at least one copy of the G551D mutation in the cystic fibrosis transmembrane conductance regulator (CFTR) gene. Cystic fibrosis is a rare genetic disease for which there is no cure, caused by a defective or missing CFTR protein resulting from mutations in the CFTR gene. Ivacaftor helps the defective CFTR protein function more normally in persons with the G551D mutation.

Want news like this in real-time so you can get an edge? Click here for Wall St. Cheat Sheet Pro.
Seattle Genetics (NASDAQ:SGEN) Closing price $29.58
On Friday, the firm announced that Health Canada has issued a Notice of Compliance with conditions (NOC/c), approving the marketing of Adcetris for two lymphoma indications, including the treatment of patients with Hodgkin lymphoma subsequent to failure of autologous stem cell transplant or after failure of a minimum of two multi-agent chemotherapy regimens in patients who are not ASCT candidates; and the treatment of patients suffering from systemic anaplastic large cell lymphoma , following  failure of at least one multi-agent chemotherapy regimen. The indications for Adcetris were okayed based on promising response rates demonstrated in single-arm trials. No data indicate increased survival with ADCETRIS.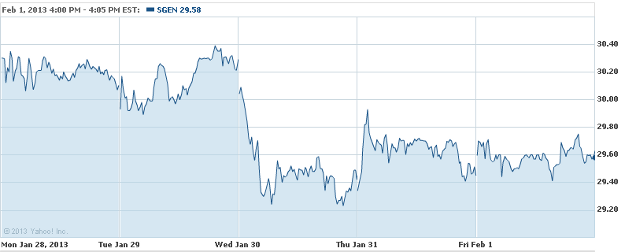 Echo Therapeutics (NASDAQ:ECTE): Closing price $0.83
Echo reported on Friday the pricing of a prior-announced underwritten public offering of 13,333,333 shares of its common stock, at 75 cents per share. Aggregate proceeds to Echo should be to roughly $10 million, before deducting the underwriting discount and other estimated offering expenses payable by the firm, which granted the underwriters a 45-day option to buy up to a total of 2 million additional shares to cover any over-allotment. The offering should close on or about February 6th, subject to the usual closing conditions. Echo is developing its needle-free Symphony tCGM System as a non-invasive, wireless, transdermal continuous glucose monitoring system.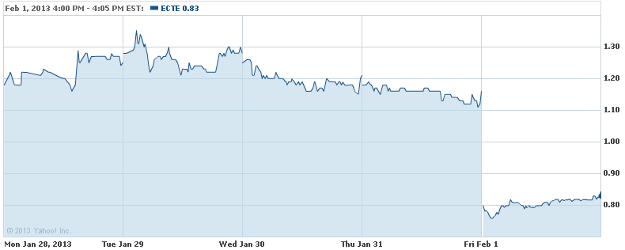 Santarus (NASDAQ:SNTS): Closing price $13.27
On Friday, Santarus submitted a Citizen Petition to the FDA asking that the agency develop and publish an individual bioequivalence recommendation for budesonide extended release tablets,  and refrain from the approval of any abbreviated new drug application that identifies Uceris (budesonide) extended release tablets as the reference listed medication, unless the generic product is shown to be bioequivalent based on appropriate data from a clinical efficacy endpoint study, comparative pharmacokinetic testing, in vitro dissolution testing, and pharmacoscintigraphy evaluations.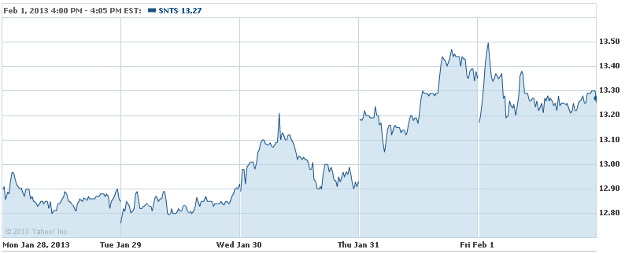 Don't Miss: Stocks Fight Off Washington D.C.