4 Healthcare Stock Stories for The Day Before Friday
Eli Lilly and Company (NYSE:LLY): Closing price $53.74
Lilly will cease the development of its experimental rheumatoid arthritis drug tabalumab, almost two months after data from a late-stage trial indicated that the drug was unlikely to prove effective. The trial was one of the three late-stage trials planned for the drug, testing tabalumab in patients suffering from moderate-to-severe rheumatoid arthritis who had an inadequate response to initial treatment. The firm then conducted another analysis before stopping all ongoing mid- and late-stage trials of the drug. This decision should result in a first-quarter charge of around $50 million, but the company's financial forecast for this year remained unchanged.

Celldex Therapeutics (NASDAQ:CLDX) Closing price $7.68
On Thursday Celldex announced the pricing of an underwritten public offering of 12 million shares of its common stock at a price to the public of $7.50 per share, representing an aggregate offering of $90 million. Net proceeds to the firm should be roughly $84,345,000. Celldex will allow the underwriters a 30-day option to buy up to a total of 1.8 million additional shares. All of the shares in the offering  will be sold by Celldex and the offering is expected to close on or about February 11th.
Are these stocks a buy or sell? Let us help you decide. Check out our Stock Picker Newsletter now.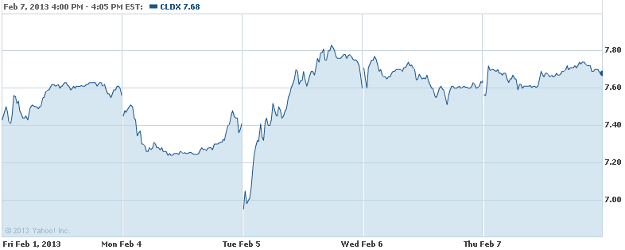 BIOLASE (NASDAQ:BIOL): Closing price $3.72
The manufacturer and distributor of dental lasers said Thursday that the United States Patent and Trademark Office has issued the firm a new patent that covers the use of its laser technologies for treating various conditions affecting the eye. Patent 8,366,702 is titled "Methods for Treating Hyperopia and Presbyopia via Laser Tunneling" and supports the ophthalmic patents previously awarded to Biolase, by broadening the application of the laser to include the architecture and techniques for treating an ocular or related tissue site, utilizing laser energy linked with a measuring device that can facilitate a determination of the thickness of anatomical structure. What is more, this new patent covers methods by which to treat a broad range of eye conditions, that include presbyopia, glaucoma, retinal disorders, and cataracts.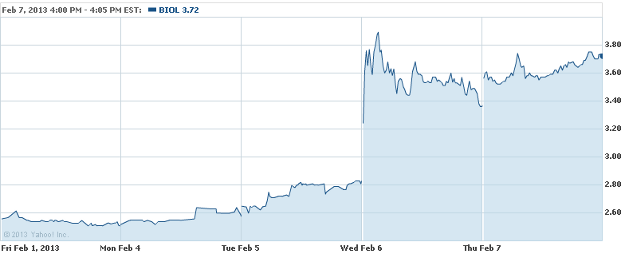 OXiGENE (NASDAQ:OXGN): Closing price $5.04
The clinical-stage biopharmaceutical firm  announced Thursday that the randomized Phase 2 study which evaluated the combination of Zybrestat (fosbretabulin tromethamine or CA4P) and Avastin (bevacizumab) to treat patients suffering from persistent or recurrent ovarian cancer has again shown acceptable tolerability in the second and final scheduled interim toxicity analysis. As was specified in the study protocol, no additional pre-specified safety concerns were seen, according to a meeting of the study's Safety Review Committee. OXiGENE expects the patient accrual for the study to be completed within the next 3 to 4 months, and that top-line data will be available at the end of 2013.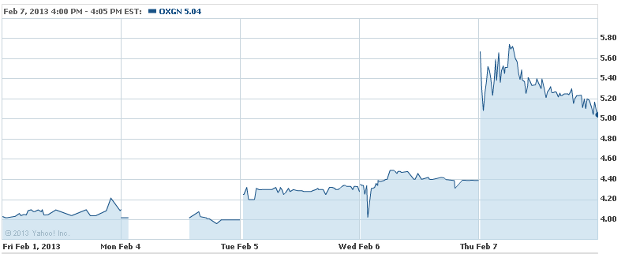 Don't Miss: Ackman vs. Herbalife: The Pyramid-Scheme Controversy Continues.