4 Healthcare Stock Stories for Thursday Wellness
Johnson & Johnson (NYSE:JNJ): Current price $74.08
The European Commission has sent antitrust objections to Novartis (NYSE:NVS) and Johnson & Johnson in regards to a pay-for-delay arrangement that might have deterred sales of generic versions of pain killer fentanyl in the Netherlands. The Commission charged that the Dutch divisions of both firms made a so-called co-promotion agreement in July 2005 to avert competing against each other, which results deprived Dutch fentanyl customers access to a less expensive pain killer for 17 months.

Are these stocks a buy or sell? Let us help you decide. Check out our Stock Picker Newsletter now.
Vanda Pharmaceuticals (NASDAQ:VNDA): Current price $3.96
On Thursday, Vanda reported top-line results of the Phase IIb/III clinical study (MAGELLAN) in Major Depressive Disorder, evaluating the efficacy and safety of tasimelteon as a monotherapy in the treatment of patients with MDD.  The clinical study failed to meet the primary endpoint of change from baseline in the Hamilton Depression Scale (HAMD-17), following 8 weeks of treatment as compared to placebo. Both tasimelteon and placebo-treated patients experienced an approximate 40 percent decrease of their MDD symptoms from baseline.

Keryx Biopharmaceuticals (NASDAQ:KERX): Current price $9.10
Keryx has announced the pricing of its previously announced underwritten public offering of common stock comprised of 8.234 million shares at $8.49 per share. In addition, the company granted the underwriters a 30-day option to buy 1,235,100 additional shares. Keryx will use the net proceeds to fund pre-launch/launch inventory build-up and select pre-commercial/commercial activities related to Zerenex, along with other general corporate purposes.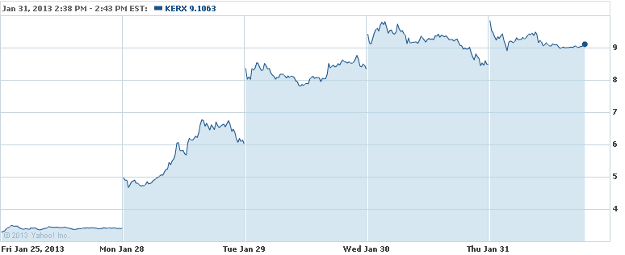 CEL-SCI Corporation (AMEX:CVM): Current price $0.27
The corporation's longstanding research partnership with Northeast Ohio Medical University has produced a new investigational breast cancer vaccine which prevents and treats a HER-2/neu, expressing breast cancer tumor in a mouse model of the disease. In animal tests, this vaccine has indicated reduction of number of tumors, reduction of tumor mass, absence of tumor in lymph nodes or peritoneal membranes and changes in angiogenesis.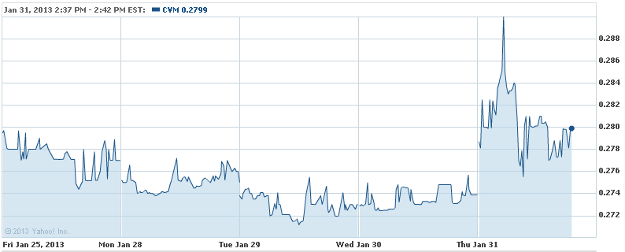 Don't Miss: Which of These 5 Healthcare Stocks Has the Strongest Earnings Trends?