4 Healthcare Stock Stories For Tuesday Investment Wellness
Boston Scientific Corporation (NYSE:BSX): Closing price $9.23
Five-year data from the Asthma Intervention Research 2 clinical trial presented on Tuesday showed that the Boston Scientific Corporation Alair Bronchial Thermoplasty System continues to demonstrate therapy benefits in adult patients suffering from severe uncontrolled asthma. Bronchial Thermoplasty was shown to allow long term asthma control, exhibited by a sustained decrease in the rate of severe exacerbations (asthma attacks) and emergency room visits over a five-year period after treatment. The AIR2 trial is the fourth in a series of clinical trials that have concluded five years of follow-up, and the first to study persistence of effects for patients treated with BT. The results were presented at the annual meeting of the American Thoracic Society in Philadelphia by the director of the Asthma Program in the Department of Medicine at National Jewish Health in Denver Michael E. Wechsler, M.D., who is also an investigator in the AIR2 trial.
Are these stocks a buy or sell? Let us help you decide.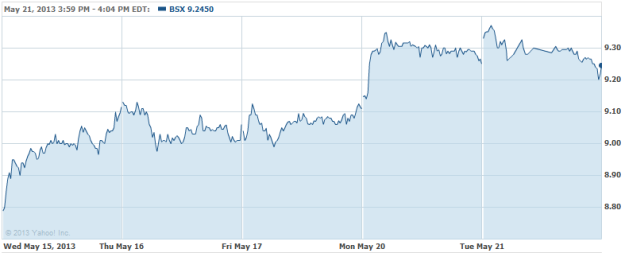 AcelRx Pharmaceuticals (NASDAQ:ACRX): Closing price $6.40
On Tuesday, AcelRx announced top-line data showing that in a placebo-controlled Phase 3 evaluation of its investigational sublingual Sufentanil NanoTab PCA (patient-controlled analgesia) System (NanoTab System), the primary efficacy endpoint was attained. The study examined control of pain intensity compared to baseline over the 48-hour study period immediately following major orthopedic surgery, specifically knee or hip replacement, utilizing the FDA-requested primary endpoint of Summed Pain Intensity Difference to baseline. Results indicated that patients receiving sufentanil NanoTabs realized a significantly greater SPID-48 during the study period versus placebo-treated patients. AcelRx is a specialty pharmaceutical firm focused on developing and commercializing innovative therapies for the treatment of acute and breakthrough pain.
Are these stocks a buy or sell? Let us help you decide.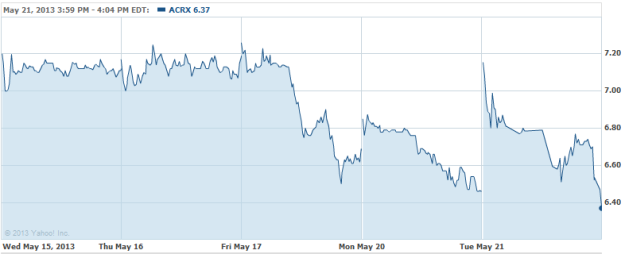 Synergy Pharmaceuticals (NASDAQ:SGYP): Closing price $4.96
On Tuesday, Synergy presented positive safety and efficacy results from its large multicenter trial of plecanatide in patients suffering from chronic idiopathic constipation at Digestive Disease Week in Orlando. The data was presented at the Late-Breaking Abstract Session of the American Gastroenterological Association by lead author and President and Medical Director of the Oklahoma Foundation for Digestive Research, Dr. Philip B. Miner. Synergy is a developer of new drugs through which to treat patients with gastrointestinal disorders and diseases.
Are these stocks a buy or sell? Let us help you decide.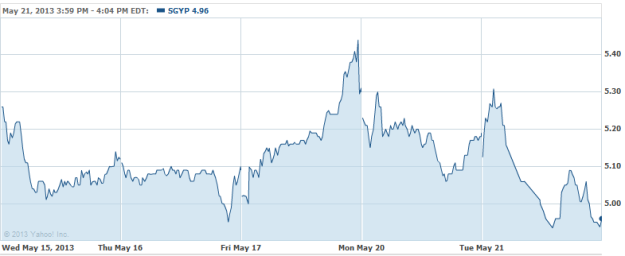 Mylan (NASDAQ: MYL): Closing price $31.23
On Tuesday, Mylan reported that the Court of Appeals for the Federal Circuit had ruled in favor of its Specialty Dey Pharma, and has turned aside the District Court's decision that had invalidated five of Mylan's patents connected with Perforomist. The Court's reversal of the summary judgment decision reinstates Mylan Specialty's patents as valid and enforceable. Prior to this, Mylan announced a resolution with Sunovion to settle the litigation in regards to Sunovion's Brovana product, pending the outcome of the Federal Circuit appeal.
Are these stocks a buy or sell? Let us help you decide. Check out our Stock Picker Newsletter now.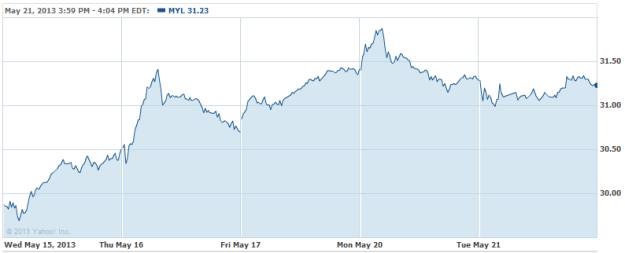 Don't Miss: Will Consumers Be Hurt By Obamacare?