4 Healthcare Stock Stories for Tuesday Wellness
Sanofi-Aventis (NYSE:SNY): Closing price $48.90
On Monday, Regeneron Pharmaceuticals reported that it was notifiied by Sanofi under the Hart-Scott-Rodino Antitrust Improvements Act of 1976 that it plans to buy common stock of Regeneron via open market purchases and also direct purchases from shareholders. Sanofi intends that the value of its ownership of voting securities of Regeneron stock will be more than the$500 million HSR Act notification threshhold. However, because of the investor agreement between the parties dated as of December 20, 2007 was amended, Sanofi may not acquire in excess of 30 percent of the outstanding shares of Regeneron's class A stock and common stock.
Are these stocks a buy or sell? Let us help you decide. Check out our Stock Picker Newsletter now.

Repros Therapeutics (NASDAQ:RPRX): Closing price $10.70
Repros supplied an update Monday for its core clinical program AndroxalSix Month Open Label Study (ZA-300). As part of the FDA requirement for total number of subjects to be exposed for six months, the firm is conducting a 500-subject open label study. Thus far, 499 subjects have been enrolled and the company expects that the study to be fully enrolled this week.

ADVENTRX Pharmaceuticals (AMEX:ANX): Closing price $0.74
The company has just announced that it has begun dosing in a thorough QT/QTc study (TQT study) of ANX-188.  Chief Executive Brian M. Culley commented that, "Consistent with our guidance from October 2011 and our commitment to FDA, we have initiated this study before the end of the first quarter. We were pleased with the discussion we had with the Agency on the study protocol and our agreement on the supra-therapeutic dose."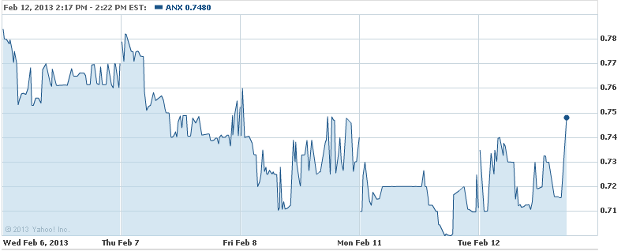 Synageva BioPharma Corp. (NASDAQ:GEVA): Closing price $49.52
On Monday, the company reported the publication of the 12-week Phase I/II extension evaluation data of sebelipase alfa in adults suffering from lysosomal acid lipase deficiency (LAL Deficiency) in the online version and an upcoming print edition of Hepatology. Synageva is a clinical-stage biopharmaceutical firm developing therapeutic products for rare diseases.

Investing Insights: Should Sane Investors Consider Celsion?