4 Healthcare Stock Stories for Tuesday Wellness
Oncolytics Biotech (NASDAQ:ONCY): Closing price $3.55
On Monday, the company announced a poster presentation that covers positive preliminary results from a Phase I evaluation examining the intravenous administration of Reolysin in combination with Folfiri in patients suffering from metastatic colorectal cancer (REO 022). The results were presented at the ASCO Gastrointestinal Cancers Symposium in San Francisco, which took place from January 24th through the 26th.
Markets are at 5-year highs! Discover the best stocks to own. Click here for our fresh Feature Stock Pick now!
Medtronic (NYSE:MDT): Closing price $46.69
Medtronic announced the beginning of PROMISE, a Prospective, Randomized Study of Multicolumn Implantable Lead Stimulation for Predominant Low Back Pain. This marks the first-ever, large-scale evaluation which compares the effectiveness of Medtronic neurostimulation therapy with Specify 5-6-5 multicolumn surgical leads, plus optimal medical management to the administration of OMM alone in patients with failed back surgery syndrome, and predominant low back pain.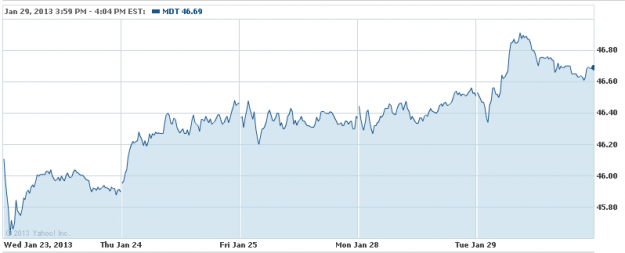 Anacor Pharmaceuticals (NASDAQ:ANAC): Closing price $4.11
On Tuesday, Anacor reported positive preliminary results from the first of two Phase 3 trials of tavaborole, which is its topical anti-fungal for onychomycosis, a fungal infection of the nail and nail bed that affects around 35 million people in the United States. Tavaborole attained a high degree of statistical significance on all primary and secondary endpoints. However, Deutsche Bank noted that on its call, Anacor said that the patient population might have been older and less healthy, compared to  Valeant's (NYSE:VRX) phase 3 trials. Also, the first phase 2 was conducted in the United States and Mexico, with Mexico providing weaker results during the phase 2 trials of tavaborole. The second phase 3 will be accomplished in the U.S and Canada. Deutsche also commented  that if the second phase 3 has like results to the first, tavaborole should be commercially viable.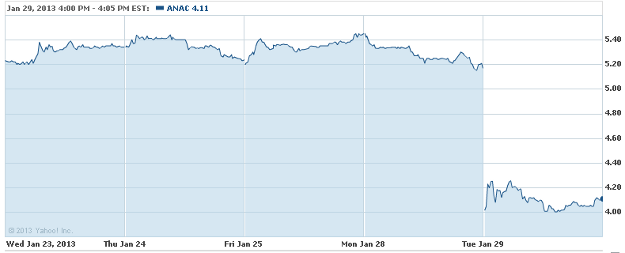 Ventrus Biosciences (NASDAQ:VTUS): Closing price $3.28
On January 22nd, the biotech firm supplied an investor update in presentation slides that reaffirmed funding through key milestones, confirming that it has sufficient cash for the completion of the VEN 307 development program. Shares are reacting to this on Tuesday.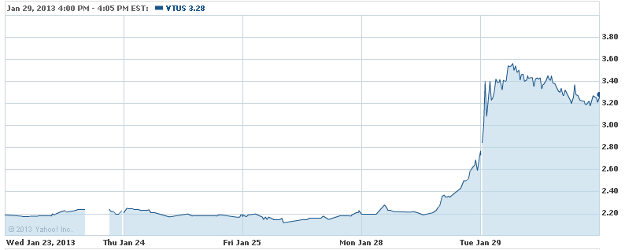 Don't Miss: Is Pfizer Still Stuck in its Lipitor Slump?