4 Healthcare Stock Stories for Wednesday Wellness
Isis Pharmaceuticals (NASDAQ:ISIS): Current price $14.69
Kynamro, a drug developed by Isis, was approved by the FDA Tuesday and will be marketed by Sanofi's Genzyme division. The medication treats a rare inherited disorder that causes extremely high cholesterol levels and heart attacks by the age of 30, and it does it by the use of a long-sought tech that can shut off specific genes that cause disease. However, there might be no more than a few hundred people in the United States with the disease, so the drug is not likely to be a superstar, but still, Kynamro could be the first commercial success for the gene silencing technique, known as antisense, which some experts believe is finally set to fulfill its promise after more than two decades of research and numerous failures.

Are these stocks a buy or sell? Let us help you decide. Check out our Stock Picker Newsletter now.
ARCA Biopharma (NASDAQ:ABIO): Current price $0.68
ARCA has supplied an update on its proposed, genetically-targeted clinical trial in atrial fibrillation of its lead developmental drug, Gencaro (bucindolol hydrochloride). The firm also reported that Medtronic has signed a non-binding Letter of Intent through which to collaborate on the initial, Phase 2B portion of the proposed trial. ARCA is a biopharmaceutical firm that is developing genetically-targeted therapies for atrial fibrillation, heart failure and other cardiovascular diseases.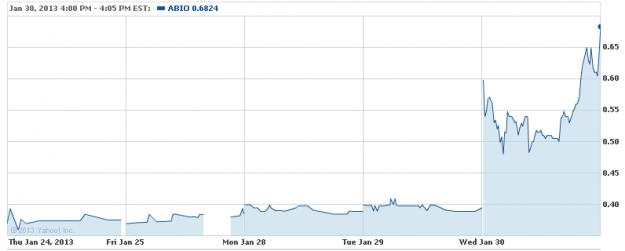 Keryx Biopharmaceuticals (NASDAQ:KERX) Current price $8.49
Late Tuesday, Keryx said that it has begun a $55-million underwritten public offering of shares of its common stock. In connection, the firm will allow the underwriters a 30-day option tobuy additional shares of stock, equal as much as 15 percent of the number of shares sold. J.P. Morgan will be the sole book-running manager in the offering. Net proceeds from the sale will be used to fund pre-launch/launch inventory build-up and select pre-commercial/commercial activities related to Zerenex, and also other general corporate purposes.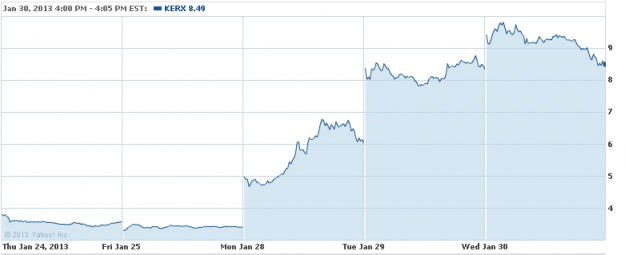 Medtronic (NYSE:MDT): Current price $46.65
Medtronic has been developing many of its devices to be MRI-compatible when conducted under certain conditions, and is thus  presently releasing a line of implantable neurostimulation devices in Europe which are compatible with full-body MRI scans. Implants that use the firm's Vectris SureScan MRI leads include PrimeAdvanced SureScan MRI, RestoreSensor SureScan MRI, RestoreAdvanced SureScan MRI, and RestoreUltra SureScan MRI. However, these products are not yet approved by the FDA and are not available in the United States.

Don't Miss: How Ugly is the Student Loan Bubble?