4 Healthcare Stock Stories for Wednesday Wellness
Johnson & Johnson (NYSE:JNJ): Current price $72.79
Johnson & Johnson said that it will present its Medical Devices & Diagnostics division strategy for accelerating growth during its yearly Business Review. MD&D comprised around 41 percent of the company's total sales last year. In addition, the firm announced that it is starting an exploratory process through which to examine strategic options for its Ortho Clinical Diagnostics unit. All options will be explored to choose the best opportunity to push future growth and maximize shareholder value. The available options include a possible divestiture if it is determined that OCD could have greater potential as part of another organization whose concentration is more closely aligned with its core strengths, or by being run as a stand-alone entity.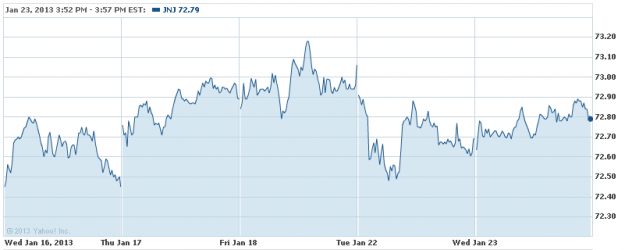 Are these stocks a buy or sell? Let us help you decide. Check out our Stock Picker Newsletter now.
Telik (NASDAQ:TELK): Current price $1.87
On Tuesday, Telik said that it has concluded an End of Phase 2 meeting with the FDA. A preliminary agreement was reached in regards to the design of a Phase 3 placebo-controlled randomized registration trial of Telintra (ezatiostat) for the treatment of low to intermediate-1 risk myelodysplastic syndrome, employing red-blood-cell transfusion independence as the endpoint. Through the FDA's guidance, Telik intends to complete the design of the Phase 3 registration trial. So as  to concentrate its resources on the registration program, Telik will cease additional enrollment in its ongoing Phase 2 exploratory trials.
Echo Therapeutics (NASDAQ:ECTE) Current price $1.18
Echo has presented an expanded analysis of data collected from the clinical evaluation of its Symphony tCGM System in critically ill patients at Tufts Medical Center in Boston. The data were presented during Display and Professor Walk Rounds on January 20th at the Society of Critical Care Medicine's 42nd Critical Care Congress. Echo develops its needle-free SymphonyTransdermal Continuous Glucose Monitoring System as a non-invasive, wireless, transdermal continuous glucose monitoring system.
Coronado Biosciences (NASDAQ:CNDO): Current price $6.75
Coronado shares were chosen as a Top Pick at Roth Capital because of the company's lead product TSO's potential in Crohn's disease. A price target of $24 was set, which was quite a bit above Tuesday's close of $6.86.
Don't Miss: Will ObamaCare Worries Hold Back WellPoint?