4 Healthcare Stock Stories for Weekend Investment Wellness
ARIAD Pharmaceuticals Inc. (NASDAQ:ARIA): Closing price $2.58
ARIAD said Friday that its board has adopted a shareholder rights plan in the form of a Section 382 Rights Agreement, created to preserve its substantial tax assets. As of December 31, ARIAD had tax assets, including net operating loss carryforwards at $307.7 million and research tax credits of $17.8 million, which could be used in certain circumstances to offset its future taxable income or otherwise payable taxes, and thus lower its federal and state income tax liabilities. The firm's plan is similar to plans adopted by many other public companies holding significant tax assets.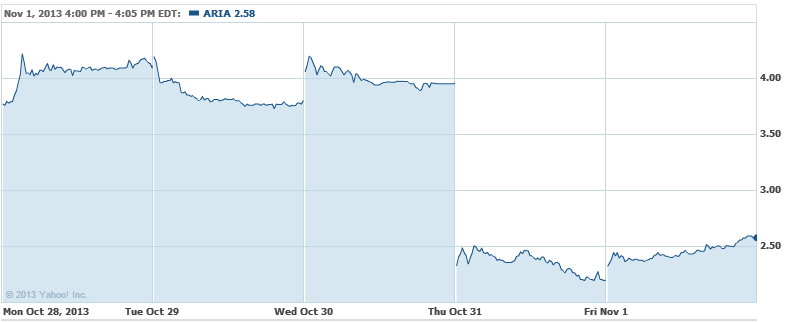 The Perrigo Co. (NYSE:PRGO): Closing price $142.44
On Friday, Perrigo reported that it has begun a voluntary, nationwide product recall to the retail level of 18 batches of its acetaminophen infant suspension liquid, 160 mg/5 mL, sold in 2 oz. and 4 oz. bottles with syringes in a box. The recall is being started because of the remote potential that a small number of packages might contain an oral dosing syringe without dose markings. The correct syringe should have a white or yellow plunger with specific dose markings for 1.25 mL, 2.5 mL, 3.75 mL, and 5 mL. If the product's syringe does show these dose markings, consumers may continue to use the product while following labeled use instructions.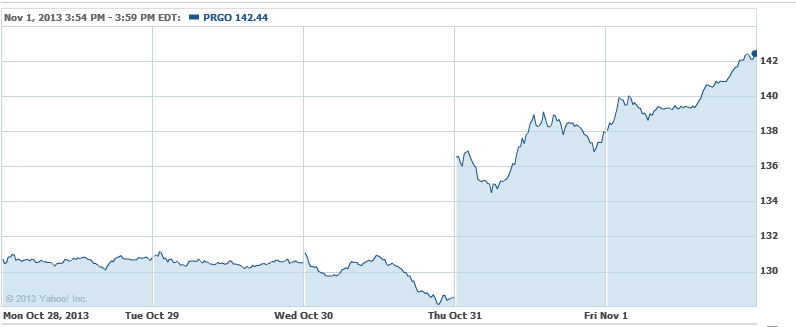 Allscripts Healthcare Inc. (NASDAQ:MDRX): Closing price $14.18
HealthCare Partners LLC will broaden its nationwide partnership with Allscripts by further deploying the Allscripts Enterprise Electronic Health Record throughout its California medical group sites and choosing the FollowMyHealth patient portal and the dbMotion population health management solution. HealthCare Partners is a subsidiary of DaVita HealthCare Partners, and manages and operates medical groups and affiliated physician networks in Arizona, California, Florida, Nevada, and New Mexico, supplying integrated care management for around 733,000 managed care patients.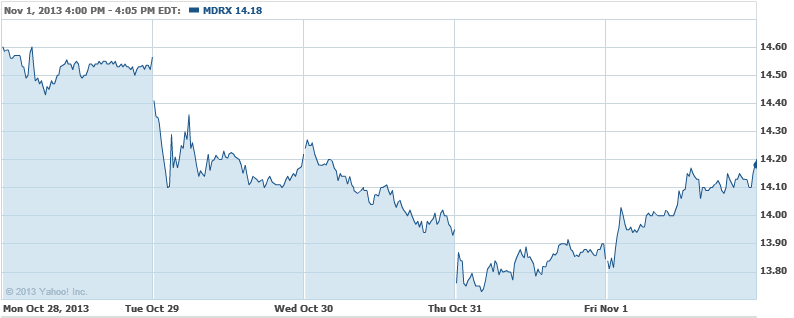 ACADIA Pharmaceuticals Inc. (NASDAQ:ACAD): Closing price $22.55
On Friday, ACADIA  announced the publication of data from its pivotal Phase III -020 Study with pimavanserin in patients who have Parkinsons disease psychosis, in the November 1, 2013 online issue of The Lancet. In the -020 Study, pimavanserin showed significant and clinically meaningful benefits, and was safe and well tolerated in patients with PDP. Pimavanserin significantly lowered psychosis and maintained motor control in patients with PDP.
Significant benefits were also seen in exploratory measures of nighttime sleep, daytime wakefulness, and caregiver burden. ACADIA is a biopharmaceutical firm centered on innovative treatments that address unaddressed medical needs in neurological and related central nervous system disorders.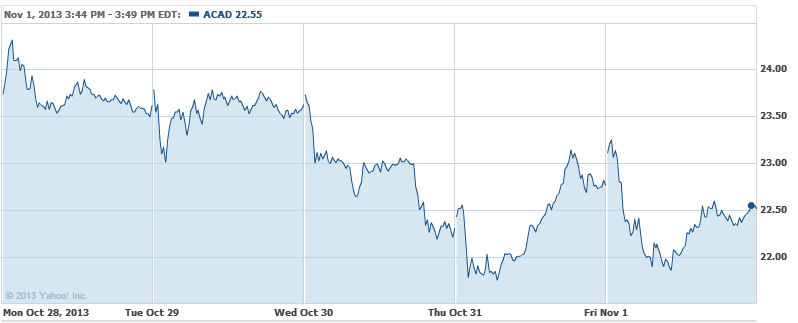 Don't Miss: 5 Takeaways from This Week's Obamacare Hearings.