4 Healthcare Stock Stories for Weekend Investment Wellness
Johnson & Johnson (NYSE:JNJ): Closing price $93.80
On Friday, Evotec AG said it will work jointly with the Johnson & Johnson Innovation Center in California so as to identify new targets for Alzheimer's disease drug discovery and development. Through the terms, Johnson & Johnson, Janssen Pharmaceuticals Inc., and Evotec will collaborate to discover and develop novel treatments for Alzheimer's disease by identifying new drug targets for discovery of novel treatment approaches. Janssen will fund target discovery research by means of a combo of defined research payments and progress-related milestones during the next three years.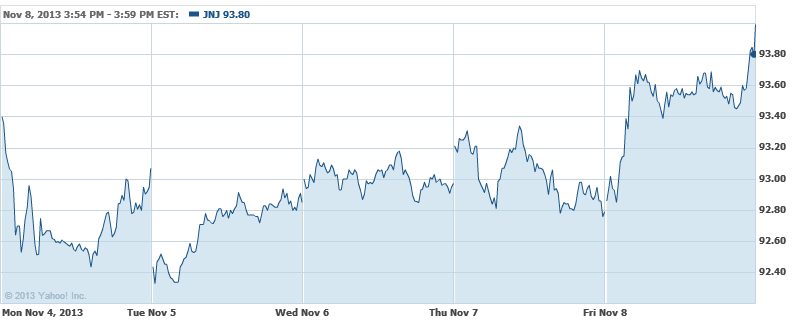 Peregrine Pharmaceuticals Inc. (NASDAQ: PPHM): Closing price $1.30
Peregrine has announced the presentation of data at the Society for Immunotherapy of Cancer Annual Meeting in National Harbor, Maryland being held November 7 through 10. The data indicated that phosphatidylserine-targeting antibodies reactivate tumor immunity at multiple levels and that these antibodies, when combined with an anti-CTLA-4 antibody, an FDA-approved immunotherapy, yielded enhanced anti-tumor activity in a pre-clinical model of melanoma. Peregrine intends to begin a Phase III clinical trial in second-line non-small cell lung cancer with its lead PS-targeting antibody bavituximab by the end of 2013.

TESARO, Inc. (NASDAQ:TSRO): Closing price $33.12
TESARO reported on Friday its financial results for the third quarter, and details of its present pipeline.  A statement to that effect read, "We continued to advance our late stage clinical pipeline during the third quarter," said Lonnie Moulder, chief executive officer of TESARO Two. "Our Phase 3 trials of oral rolapitant are now fully enrolled, and we look forward to announcing top-line data from these studies at year end, with results from the third study becoming available in early 2014. Preparations are underway for the submission of a New Drug Application for oral rolapitant to the U.S. Food and Drug Administration in mid-2014. We are currently screening patients for enrollment in the BRAVO study of niraparib, and are very pleased with the level of interest we are receiving from investigators in our ongoing NOVA trial."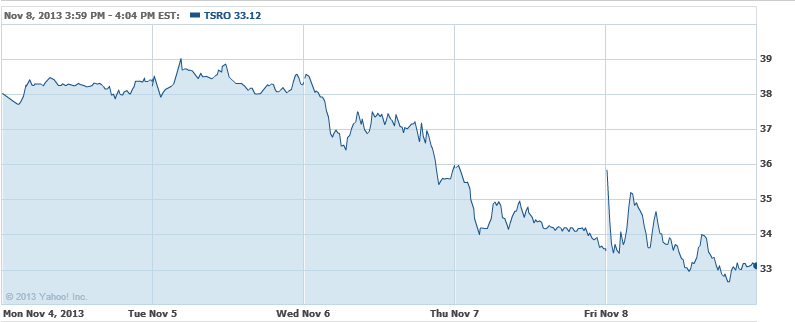 Keryx Biopharmaceuticals Inc. (NASDAQ:KERX): Closing price $12.97
Keryx ha reported preliminary, unaudited data from an ongoing 48-week safety extension study of Zerenex (ferric citrate coordination complex), its drug candidate for the treatment of hyperphosphatemia in patients who have chronic kidney disease and are on dialysis. Only patients who had participated in and successfully completed the 58-week, long-term Phase 3 study were eligible for enrollment into this safety extension evaluation. This 48-week, open-label extension study, which is not a regulatory requirement, is being run in 35 sites in the United States. The study begun enrollment in August of last year and is anticipated to be completed in the first half of 2014.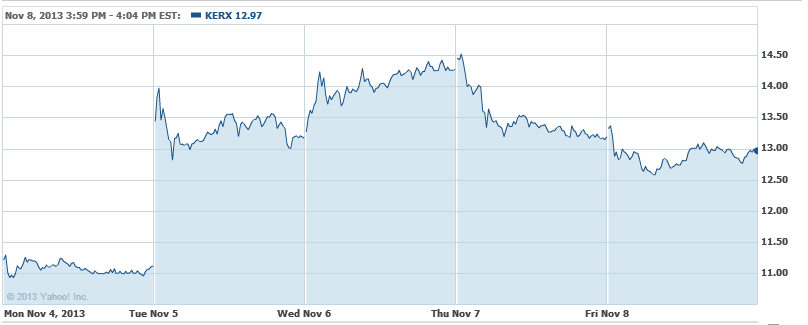 Don't Miss: Are Government Woes Sinking Consumer Sentiment?