4 Healthcare Stock Stories for Weekend Investment Wellness
Johnson & Johnson (NYSE:JNJ): Closing price $87.16
J&J's McNeil division said Friday that Johnson & Johnson is recalling 200,000 bottles of Motrin Infants formula because of the possibility that they contain tiny plastic particles. McNeil said that the recall affects three lots of its popular Motrin Drops Original Berry Flavor, which is for lowering fever and treating aches and pains in children 2 years old and below. The company warned that the medicine might be contaminated with specks of PTFE, a plastic also employed in Teflon coatings, and that it is not clear if the recalled bottles actually contain the particles, which were discovered in a different product during the manufacturing process.
Are these stocks a buy or sell? Let us help you decide.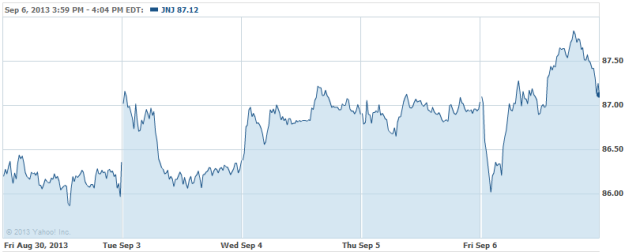 Celgene Corp. (NASDAQ:CELG): Closing price $146.97
Of Friday, the FDA expanded the approved uses of Abraxane (paclitaxel protein-bound particles for injectable suspension, ablumin-bound) to treat patients suffering from late-stage (metastatic) pancreatic cancer. Richard Pazdur, M.D., director of the Office of Hematology and Oncology Products in the FDA's Center for Drug Evaluation and Research, observed that, "Patients with pancreatic cancer are often diagnosed after the cancer has advanced and cannot be surgically removed. In these situations, and in situations when the cancer has progressed following surgery, options like Abraxane can help prolong a patient's life."
Are these stocks a buy or sell? Let us help you decide.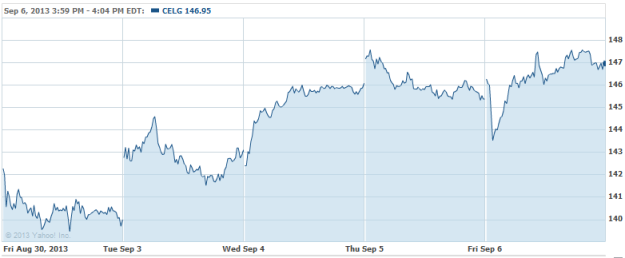 Prosensa Holding N.V. (NASDAQ: RNA): Closing price $23.42
Prosensa has reported the dosing of the first patient in its Phase I/II clinical trial of PRO053, which is an exon-skipping compound for the treatment of Duchenne muscular dystrophy. PRO053, the firm's fourth drug development candidate, induces exon 53 skipping, and could be applicable to roughly 8 percent of all DMD patients. Prosensa is a Dutch biopharmaceutical firm that centers on RNA-modulating therapeutics for rare diseases with high unmet need.
Are these stocks a buy or sell? Let us help you decide.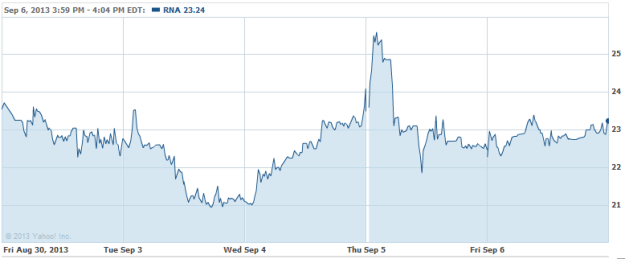 Trovagene, Inc. (NASDAQ:TROV): Closing price $7.93
Trovagene announced Friday that it will collaborate with the University of Southern California to study genomic characterizations of metastatic colorectal cancers, using Trovagene's proprietary cell-free DNA assays. The evaluation is created to demonstrate that cell-free DNA obtained from urine is a viable systemic sample for colorectal cancer disease monitoring, which includes measuring therapy response, identifying cancer genomic changes, and overseeing disease progression. Trovagene develops molecular diagnostics for cancer monitoring.
Are these stocks a buy or sell? Let us help you decide.