4 Healthcare Stock Stories for Weekend Investment Wellness
Humana Inc. (NYSE:HUM): Closing price $91.39
On Friday, Minnesota Attorney General Lori Swanson announced that she will request that the federal government investigate Humana's Medicare Advantage policies, after discovering what she termed "significant problems" reported by Minnesota patients and medical providers. Affidavits collected from 25 Minnesotans indicated a pattern through which Humana turned down claims for medical services required by law, overcharged for co-payments and coinsurance, and did not disclose the providers that are in the network. Swanson's office also found that Humana failed to follow procedures outlined by federal regulations for patients to appeal their cases.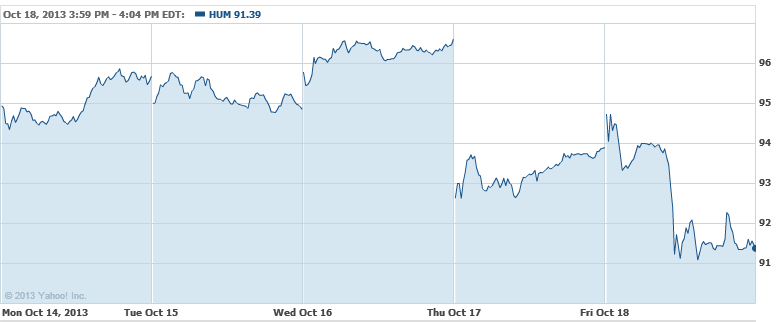 Novo Nordisk A/S (NYSE:NVO): Closing price $173.57
Novo Nordisk announced Friday that Health Canada has okayed its Levemir FlexTouch, a disposable prefilled insulin pen containing Levemir (insulin detemir). Levemir FlexTouch was created to improve ease of use for insulin administration and to help lower barriers to good treatment adherence for Canadians living with type 1 and type 2 diabetes mellitus (diabetes). The approval was also reported at the 2013 Vascular Conference in Montreal.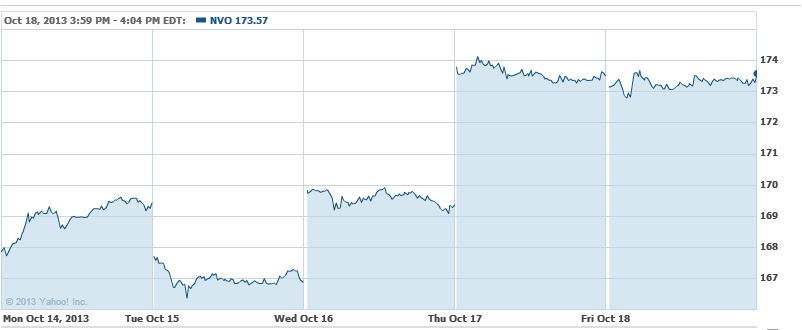 Anacor Pharmaceuticals Inc.  (NASDAQ:ANAC): Closing price $13.83
On Friday, Anacor said that the arbitrator appointed to settle its dispute with Valeant Pharmaceuticals Inc., successor in interest to Dow Pharmaceutical Sciences Inc., has issued an Interim Final Award in favor of Anacor, awarding the firm $100 million in damages along with all costs of the arbitration and reasonable attorneys fees.
The parties may apprise the arbitrator of any matters not resolved in the Interim Final Award order within ten days, and responses to any such submission are due within fifteen days of the date of the Interim Final Award. Should no submissions be made, this Interim Final Award will become final. The Final Award will be submitted to the court of appropriate jurisdiction for confirmation and enforcement.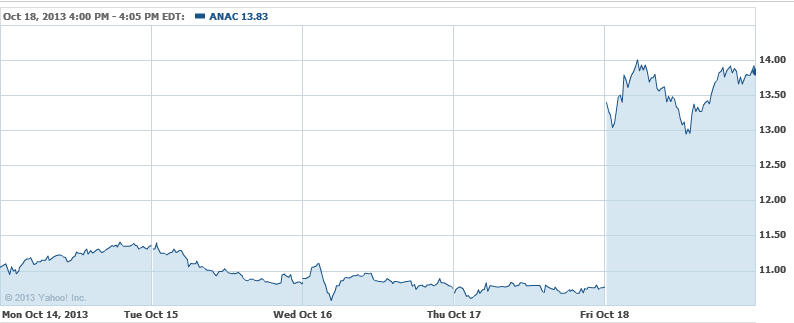 Portola Pharmaceuticals, Inc. (NASDAQ:PTLA): Closing price $23.79
Portola has announced the pricing of its public offering of common stock. The firm will issue 6,366,513 shares of its common stock at $23.75 apiece. The underwriters have been allowed an option to buy an additional 954,976 shares, with a 30-day window. The offering should be completed on October. Portola intends to use the funds for further development of its three lead candidates, Betrixaban, PRT2070, and Andexanet alfa (PRT4445).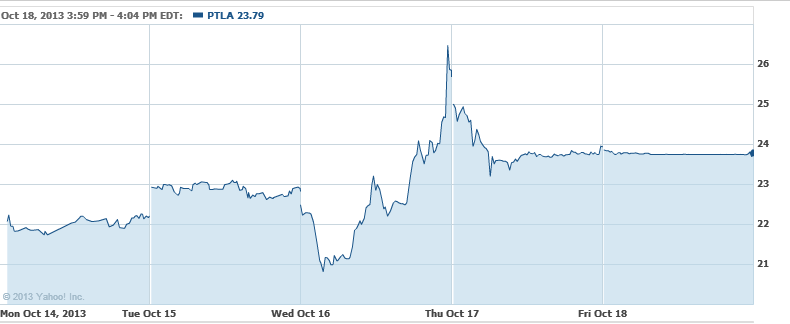 Don't Miss: Here's How Treasury Secretary Jack Lew Lit a Fire Under Congress.