4 Healthcare Stock Stories for Weekend Investment Wellness
Eli Lilly and Co. (NYSE:LLY): Closing price $50.64
On Friday, Eli Lilly reported the FDA approval of a product label addition for Cialis to include data from a 26-week study that indicated that Cialis 5 mg for once daily use initiated in combo with finasteride, significantly improved the signs and symptoms of benign prostatic hyperplasia as early as 4 weeks versus placebo with finasteride in men with BPH and an enlarged prostate. The union of Cialis and finasteride initiated for BPH therapy is recommended for as long as 26 weeks because the incremental benefit of Cialisdecreases from 4 weeks until 26 weeks, and the incremental benefit of Cialis beyond 26 weeks is not known.

AbbVie Inc. (NYSE:ABBV): Closing price $49.27
AbbVie on Friday posted stronger-than-anticipated results for the third quarter, attributed to booming sales of its Humira arthritis treatment, and because Synthroid thyroid replacement drug more than outweighed lower demand for other medicines. Shares of the firm, which were split off at the beginning of 2013 from Abbott Laboratories, closed up by 2.68 percent. Humira, a treatment for rheumatoid arthritis, psoriasis, Crohn's disease, and other conditions, is the world's number one selling prescription drug. Sales have climbed steadily since it was debuted in 2002.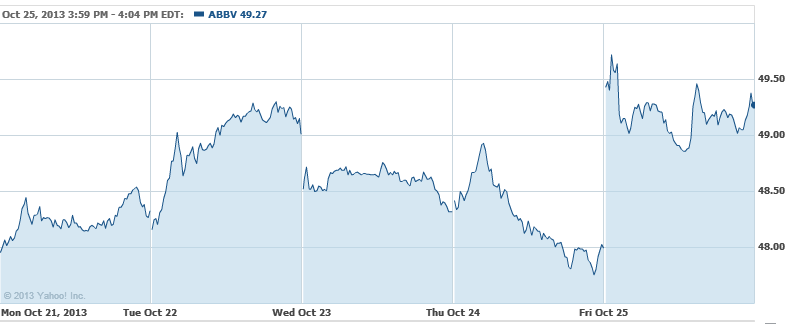 Arena Pharmaceuticals Inc. (NASDAQ:ARNA): Closing price $4.74
Arena said that its partner Eisai Inc. will double the size of the sales force for their weight management drug, Belviq, to roughly 400 representatives by December from its strength in June 2013 when the drug was introduced in the United States. The decision to augment the sales force follows an increase in Belviq coverage by health plans and pharmacy benefit managers since its debut. Arena's growth remains highly dependant upon Belviq, which is its sole marketed product.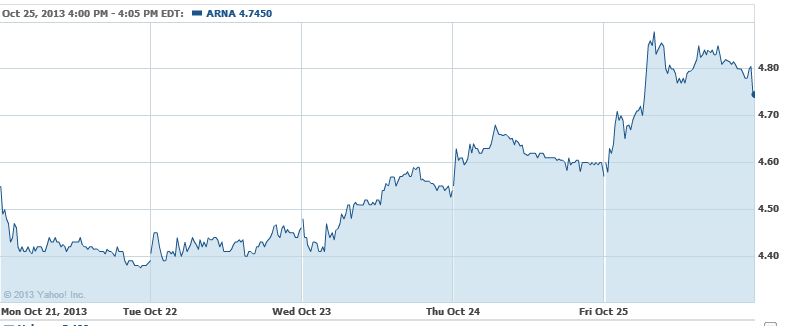 AstraZeneca PLC (NYSE:AZN): Closing price $52.73
AstraZeneca has begun a phase III program for its oncology candidate, selumetinib. The firm wants to get selumetinib cleared as second-line treatment in patients who suffer from advanced or metastatic non-small-cell lung cancer with KRAS mutation-positive tumors. The SELECT-1 (SELumetinib Evaluation as Combination Therapy-1) study means to enroll 634 NSCLC patients so as to compare the safety and efficacy of selumetinib in combination with Sanofi's Taxotere (docetaxel) to Taxotere and placebo. Results will be measured on the basis of progression-free survival and overall survival.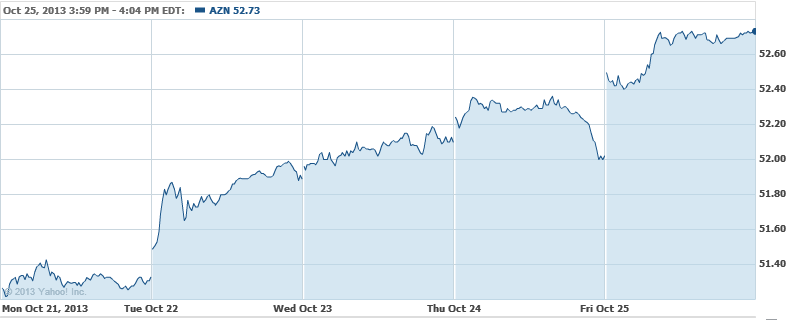 Don't Miss: The Obamacare Blame-Game Begins.