4 Healthcare Stock Stories for Weekend Perusal
Arena Pharmaceuticals (NASDAQ:ARNA): Current price $8.12
Arena reported Friday the start of dosing in a Phase 1 clinical trial of APD334, which is a novel oral drug candidate that aims at the sphingosine 1-phosphate subtype 1 receptor for the potential treatment of autoimmune diseases. This randomized, double-blind and placebo-controlled Phase 1 trial will evaluate the safety, tolerability and pharmacokinetics of single-ascending doses of APD334 in as many as 64 healthy adult volunteers.
Are these stocks a buy or sell? Let us help you decide. Check out our Stock Picker Newsletter now.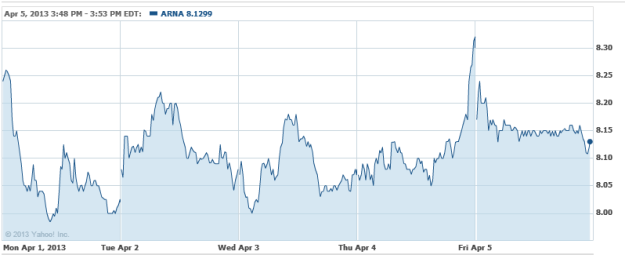 Sarepta Therapeutics (NASDAQ:SRPT): Current price $36.32
On Friday, the developer of  RNA-based therapeutics announced updated data from Study 202, its Phase IIb open-label extension study of eteplirsen in patients suffering from Duchenne muscular dystrophy. Results at 74 weeks indicated a continued stabilization of walking ability in eteplirsen-treated patients evaluable on the 6-minute walk test. Study 202 met its primary endpoint of increased novel dystrophin as assessed by muscle biopsy at week 48 and is presently in the long-term extension phase in which patients continue to be monitored for safety and clinical outcomes. Eteplirsen is Sarepta's top exon-skipping compound in development for the treatment of patients with DMD who have a genotype amenable to skipping of exon 51.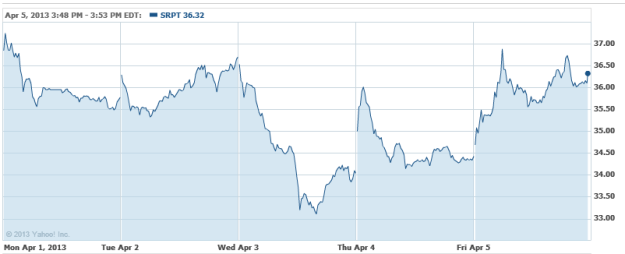 Antares Pharma (NASDAQ: ATRS): Current price $3.49
Antares said Friday that it has received a Notice of Allowance from the United States Patent Trade Office in regards to a patent application for the VIBEX QuickShot device, marking the latest advancement in its proprietary line of VIBEX auto-injector systems. President and Chief Executive Paul K. Wotton, Ph.D., remarked that "The size and scope of our intellectual property portfolio continues to grow as we develop device technologies that will enhance the product performance of established drugs as well as new drugs in development. "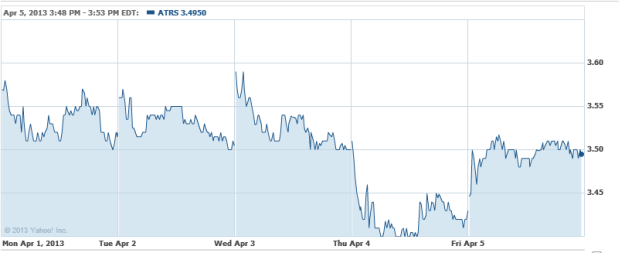 AstraZeneca Group (NYSE:AZN): Current price $50.39
Once again, the group's experimental rheumatoid arthritis pill fostamatinib met only one of two goals in a late-stage clinical trial, which leaves the future of one of its few advanced pipeline products unclear. Fostamatinib is a potential challenger to injectable drugs such as AbbVie's Humira and a new pill from Pfizer named Xeljanz in a $20 billion-plus market. The latest results can not do much to restore confidence, particularly since elevated blood pressure and diarrhoea were again noted among patients taking the AstraZeneca product.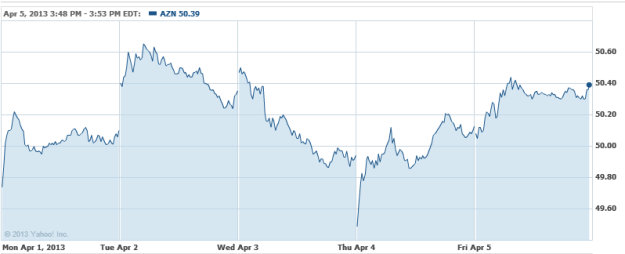 Don't Miss: Can This Business Help Pfizer in Emerging Markets?