4 Healthcare Stock Stories for Weekend Wellness
Merck & Co. (NYSE:MRK): Closing price $43.46
Merck's Oxytrol for Women, the first over-the-counter treatment for overactive bladder in women ages 18 years and older, has been cleared by the FDA. The medication will remain available for men with overactive bladder by prescription only.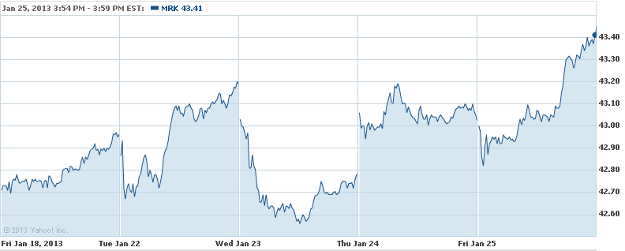 Markets are at 5-year highs! Discover the best stocks to own. Click here for our fresh Feature Stock Pick now!
Anthera Pharmaceuticals (NASDAQ:ANTH): Closing price $0.64
On Friday, Anthera said that it will offer and sell shares of its common stock via an underwritten public offering at 66 cents per share. The firm expects to grant the underwriters a 30-day option in which to buy up to an additional 15 percent of the shares offered in the public offering. Anthera will use the net proceeds for general corporate purposes. The offering is subject to market and other conditions, and there can be no certainty as to whether or when the offering may be closed, or as to the actual magnitude or terms of the offering.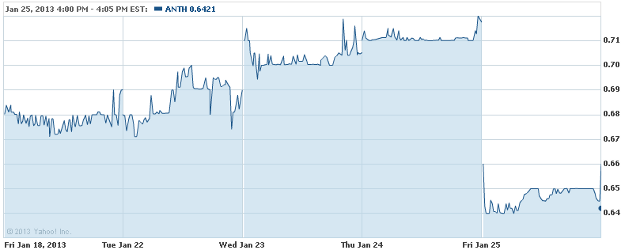 Pfizer (NYSE:PFE): Closing price $27.00
Pfizer reported Friday that the FDA has given the greenlight for the expansion of its pneumococcal conjugate vaccine, Prevnar 13 (Pneumococcal 13-valent Conjugate Vaccine [Diphtheria CRM197 Protein]), for use in older children and adolescents of ages 6 through 17 years for active immunization for the prevention of invasive disease caused by the 13 Streptococcus pneumoniae serotypes contained in the vaccine. For this age group, Prevnar 13 is administered as a one-time dose to patients who have never before taken the drug.

HCA Holdings (NYSE:HCA): Closing price $37.78
The biggest for-profit hospital chain in the United States has been ordered to pay $162 million, subsequent to a judge's decision in Missouri that it did not abide by an agreement to make improvements to dilapidated hospitals it purchased in the Kansas City area a few years ago. Also, the court appointed an accountant to determine whether HCA had actually supplied the levels of charitable care to which it had agreed at the time. The current dispute marks the second time in recent years that HCA has come under legal fire from officials in communities which divested troubled nonprofit community hospitals to it.

Don't Miss: IPOs, Lawsuits, and Cancer Treatments: Healthcare Recap.