4 Healthcare Stock Stories Gaining Thursday Traction
GlaxoSmithKline (NYSE:GSK): Closing price $51.77
In the third quarter, GlaxoSmithKline sales in China fell by 61 percent. The company had warned in July that the ongoing bribery scandal would have a negative impact on its business but was not certain to what extent, as the form said that, "At this stage, it is still too early for us to quantify the longer-term impact on our performance in China." Excluding China, sales rose by 5 percent. GlaxoSmithKline stands accused of channeling close to $500 million through a network of 700 travel agencies to bribe medical associations, government officials, hospitals and physicians.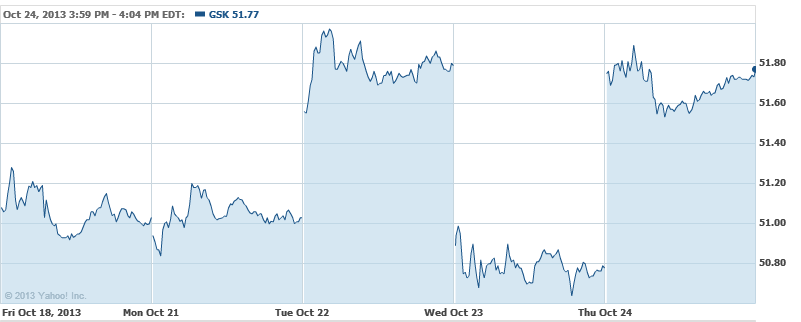 McKesson Corp. (NYSE: MCK): Closing price $149.66
On Thursday the healthcare services and information tech firm McKesson and the international wholesale and retail company Celesio AG, announced that McKesson will acquire a majority stake in Celesio at 23 euros per share and to launch parallel voluntary public tender offers for the  remaining publicly-traded shares and outstanding convertible bonds of Celesio. The offer price of 23 euros per share marks a 39 percent premium over the three-month volume weighted average price previous to the market speculation that started on October 8. The total transaction, including the assumption of Celesios outstanding debt, is valued at roughly $8.3 billion.

Bristol-Myers Squibb Co. (NYSE:BMY): Closing price $49.37
Moody's Investors Service has assigned the rating of A2 to the new senior unsecured note offering of Bristol-Myers Squibb. Moreover, there is no change to Bristol's existing ratings including the A2 senior unsecured rating or Prime-1 commercial paper rating. The rating outlook is negative. Proceeds of the notes will go to general corporate purposes, which may include repayment of commercial paper.

Abbott Laboratories (NYSE:ABT): Closing price $37.23
On Thursday, Abbott was again chosen one of the Top 20 Employers by the journal Science. The yearly survey is based upon the views of working scientists, and identifies firms having the best reputations as employers. Abbott ranked number 18 overall, receiving high scores for social responsibility and employee loyalty. The complete rankings are available online and in the October 25, print issue of Science. This is the tenth time Abbott has been ranked among the top firm in the survey.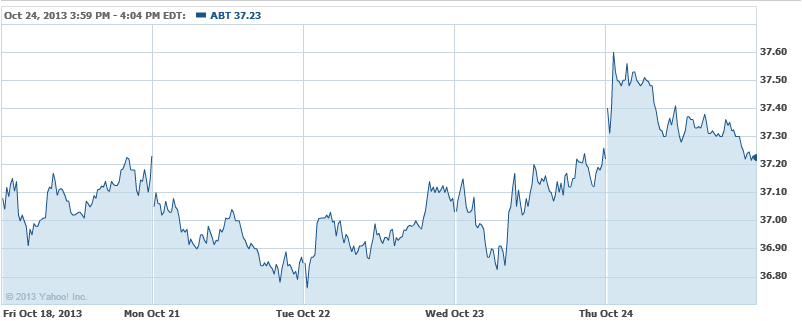 Don't Miss: Here's Obamacare's Appeal to America's Bros.