4 Healthcare Stock Stories Getting Noticed on Monday
Merck & Co. (NYSE:MRK): Closing price $45.40
A type of HIV medicine that stops the AIDS virus from entering immune system cells might in the future be employed against cancer in new combination therapies being developed by drug firms. Industry analysts at Citi think that Merck is poised to take the situation to the next phase by testing its CCR5 drug vicriviroc in cancer patients. The product had been abandoned as a treatment for HIV in 2010 after an unsuccessful study.

Teva Pharmaceutical Industries Ltd. (NYSE:TEVA): Closing price $41.04
Teva has refuted an Israeli media report that its Chief Executive Jeremy Levin was mulling resignation due to a split with the firm's board of directors. The world's number one generic drugmaker said that, "These are baseless claims," in an emailed statement on Monday. Channel 2 television had quoted unidentified sources as saying that there were strong differences of opinion between Levin and Chairman Phillip Frost in regards to the implementation of Teva's new strategy.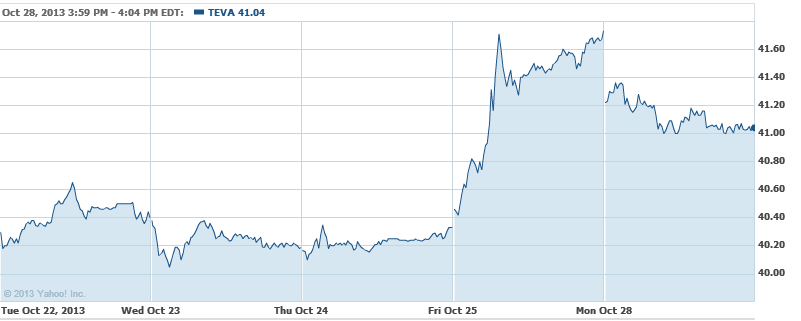 Clovis Oncology Inc. (NASDAQ:CLVS): Closing price $54.86
On Monday, Clovis announced updated findings from the Phase I portion of its ongoing Phase I/II clinical study of CO-1686, the firm's novel, oral, targeted covalent (irreversible) inhibitor of mutant forms of the epidermal growth factor receptor for the treatment of non-small cell lung cancer in patients suffering from initial activating EGFR mutations along with the dominant resistance mutation T790M. Interim results from the Phase I dose-escalation portion of this Phase I/II study are being presented in an oral presentation by Professor Jean-Charles Soria at the IASLC 15th World Conference on Lung Cancer in Sydney.

Illumina Inc. (NASDAQ:ILMN): Closing price $92.76
Illumina said Monday that it will acquire NextBio, a firm engaged in clinical and genomic informatics. NextBio's powerful big-data platforms collect and analyze large quantities of phenotypic and genomic data for research and clinical applications. With the addition of NextBio's platform upon completion of the purchase, Illumina will be able to offer customers enterprise level bioinformatics solutions that speed up the discovery of new associations between the human genome and disease, and ultimately, enable the application of those discoveries within healthcare.

Don't Miss: 7 Unhealthy Everyday Foods: Processed and Problematic.