4 Healthcare Stock Stories Getting Traction Today
Eli Lilly & Co. (NYSE:LLY): Closing price $52.61
Lilly will depend upon the quality of a diversified product portfolio to help its sales forces grab a larger piece of the $22-billion domestic diabetes market, marking a difference in strategy to some of its competitors. President Enrique Conterno of Lilly Diabetes remarked in an interview that, "I don't think the market is responsive today to putting more and more sales people focused on brands. We start with the patient and think of all the therapies we could have for him" instead of "trying to force a brand" on both diabetics and physicians.
Conterno continued that Lilly plans only "very limited expansion, wherever we may need it," to its diabetes sales forces as it prepares to debut up to four new therapies by 2016.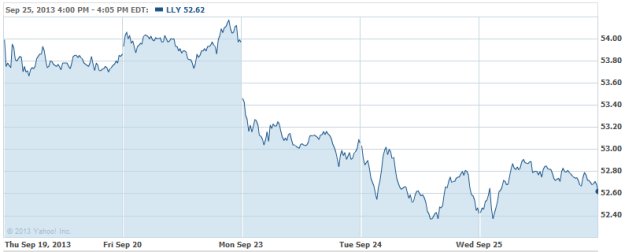 Myriad Genetics Inc. (NASDAQ:MYGN): Closing price $25.86
On Wednesday, Myriad announced new data published in Clinical Cancer Research indicating that the myPlan Lung Cancer test is a significant predictor of lung cancer death in patients suffering from early-stage, resectable lung adenocarcinoma, and may be a valuable tool for selecting which early-stage patients should be considered for additional post-surgical chemotherapy.
The purpose of the evaluation was to investigate the significance of the myPlan Lung Cancer test as a predictor of survival in patients having early stage lung adenocarcinoma in three independent data sets. The primary endpoint was overall survival, as measured by disease-related death inside five years of surgery.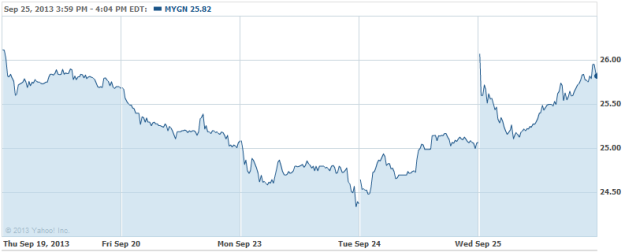 Infinity Pharmaceuticals Inc. (NASDAQ: INFI): Closing price $17.32
Infinity on Wednesday announced topline data from its Phase 2 study of retaspimycin hydrochloride, a potent and selective heat shock protein 90 (Hsp90) inhibitor in patients who have non-small cell lung cancer and a history of smoking. In this double-blind, randomized, placebo-controlled evaluation, retaspimycin HCl did not attain its pre-specified efficacy endpoints for showing an improvement in overall survival in the total patient population, or in patients with squamous cell carcinoma.
In the study, the safety profile of retaspimycin HCl plus docetaxel was comparable to docetaxel and placebo. Infinity intends to present the final data in a peer-reviewed setting after all analyses are finished. The company will not start any new trials with retaspimycin HCl.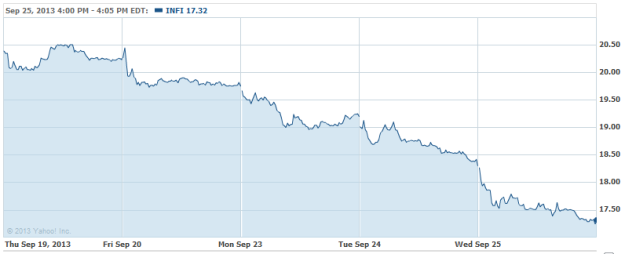 Dynavax Technologies Corp. (NASDAQ:DVAX): Current price $1.23
Dynavax said Wednesday that immunogenicity and safety results of two Phase 3 trials (HBV-16 and HBV-17) of Heplisav investigational hepatitis B vaccine have been published in the journal VACCINE, accompanied by a commentary by Drs. Stanley Plotkin and William Schaffner. The commentary highlights the effect of 1018, which is the novel adjuvant contained in Heplisav, and concludes that the "results from these trials add to the body of evidence that 1018 can be an important new adjuvant for immunization against hepatitis B." These Heplisav data were previously reported at medical conferences.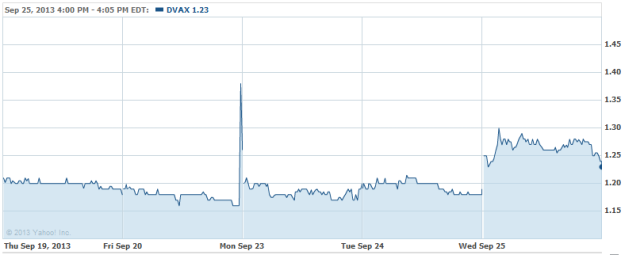 Don't Miss: JPMorgan's Possible $7B Settlement, Amazon's New Kindles: Morning Buzzers