4 Healthcare Stock Stories Making a Big Buzz Today
Merck & Co. (NYSE: MRK): Closing price $48.75
On Tuesday, Goldman Sachs maintained its Neutral on Merck and raised its price target from $52 to $54. Analyst Jami Rubin professed to be encouraged by Merck's aggressive approach by which to sharpen its business focus. Rubin observed that, "Merck is focusing efforts in diabetes, acute care, vaccines, and oncology while also narrowing commercial focus on 10 key geographies. In its cost cutting and restructuring Merck is borrowing a page from such successful pharma peers as Bristol-Myers Squibb and Pfizer. Merck described these moves as proactive although 2013 has clearly been a challenging year of patent cliffs and R&D setbacks."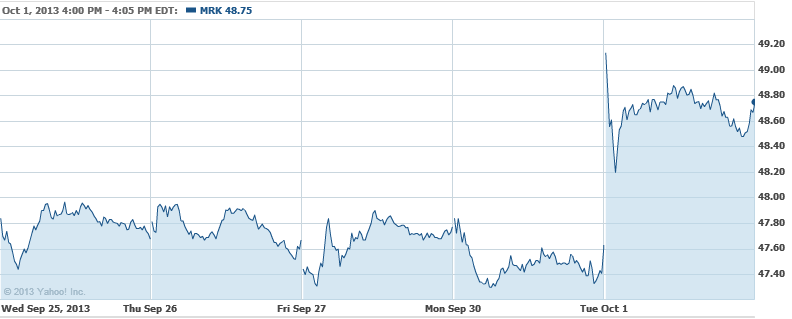 Myriad Genetics, Inc. (NASDAQ:MYGN): Closing price $25.25
Myriad announced that BioMarin Pharmaceutical Inc. will employ Myriad's BRACAnalysis test in conjunction with its pivotal Phase 3 clinical studies for BMN 673. BMN 673 represents a novel, orally-active PARP inhibitor created to induce synthetic lethality in BRCA-deficient cells. Myriad will work jointly with BioMarin to deliver BRAC testing for its key clinical studies. As required by the FDA, Myriad also submitted an investigational device exemption to the FDA that will allow for BRACAnalysis testing to be used as a companion diagnostic to stratify patients in the BMN 673 clinical program. The firms did not supply additional terms of the arrangement.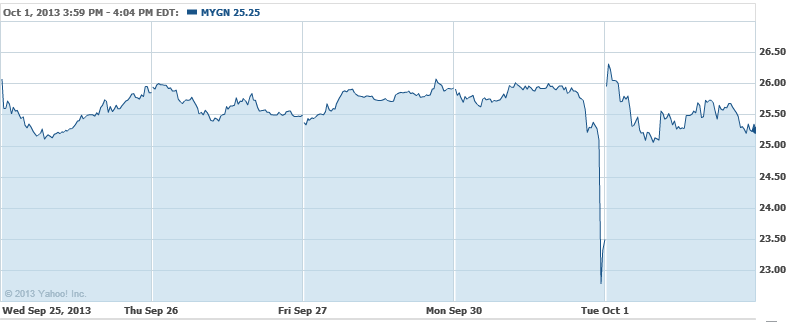 AbbVie Inc. (NYSE:ABBV): Closing price $45.82
AbbVie said that new data from its phase II hepatitis C clinical development program will be presented at The Liver Meeting, the Annual Meeting of the American Association for the Study of Liver Diseases in Washington, D.C., November 1 through 5. All told, eight abstracts will be presented, four of which contain additional analyses from the phase IIb AVIATOR evaluation. The data examine sustained virologic response concordance, patient adherence to the regimen, patient reported outcomes, and the effect of ribavirin dose reduction.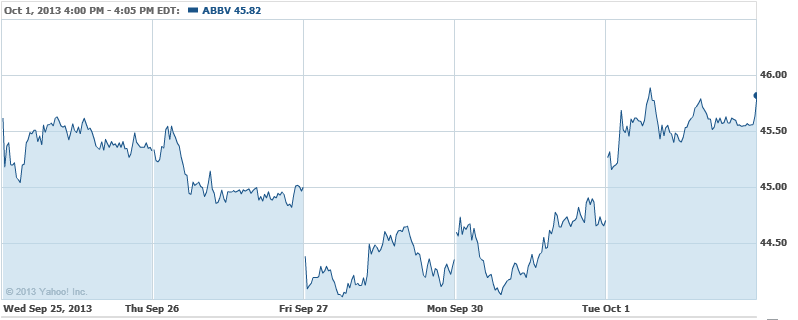 Trovagene, Inc. (NASDAQ:TROV): Closing price $8.15
The developer of cell-free molecular diagnostics announced Tuesday the availability of the first urine test for cancer mutation monitoring through its CLIA laboratory. The robustness of Trovagene's ultra-sensitive assay procedure has been exhibited for detection of the BRAF V600E mutation from cell-free DNA in urine. This mutation typically occurs in melanoma, along with a number of other prevalent cancer types. Trovagene's cell-free BRAF test is a laboratory-developed test created to detect and monitor this mutation in metastatic cancer patients having biopsy-proven V600E BRAF mutation in their tumors. It represents the first commercial assay within Trovagene's cancer monitoring portfolio performed utilizing a droplet digital PCR platform.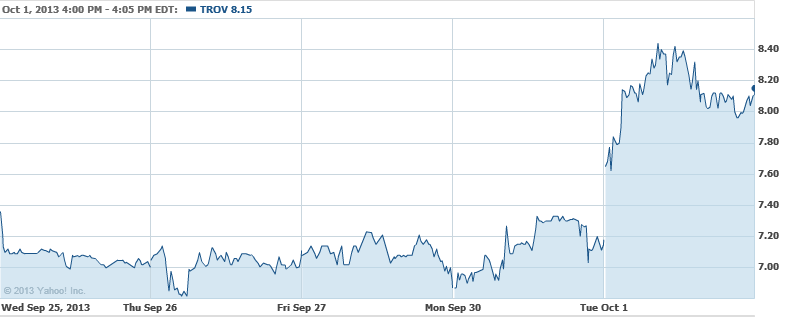 Don't Miss: Will Walgreen Continue Higher Post-Earnings?