4 Healthcare Stock Stories Making a Fuss Today
Isis Pharmaceuticals, Inc. (NASDAQ:ISIS): Closing price $34.19
On Wednesday, Isis announced that it has earned a $10-million milestone payment from Biogen IDEC, connected with the selection and advancement of ISIS-DMPK in treatment of myotonic dystrophy type I. DM1 is a rare genetic neuromuscular disease characterized by progressive muscle atrophy, weakness, and disabling muscle spasms. DM1 is the most common form of muscular dystrophy in adults and is estimated to affect some 150,000 patients in the United States, Europe and Japan.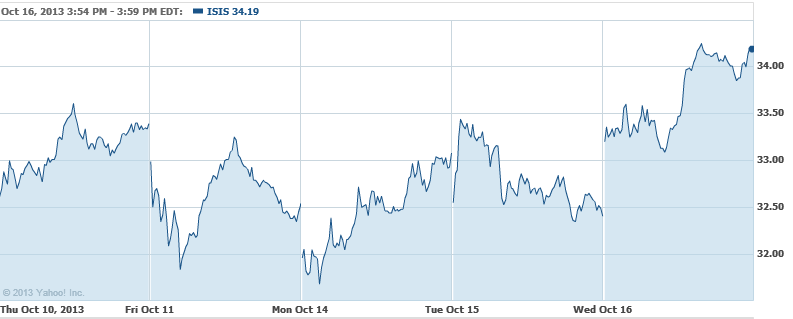 Sanofi-Aventis (NYSE:SNY): Closing price $49.39
Sanofi and Regeneron Pharmaceuticals Inc. have announced that the Phase 3 ODYSSEY MONO trial with alirocumab, an investigational monoclonal antibody targeting PCSK9 (proprotein convertase subtilisin/kexin type 9), attained its primary efficacy endpoint. The mean low-density lipoprotein-cholesterol reduction from baseline to week 24, the primary efficacy endpoint of the evaluation, was significantly greater in patients randomized to alirocumab, versus patients randomized to ezetimibe.

Vanda Pharmaceuticals Inc. (NASDAQ: VNDA): Closing price $9.87
Vanda announced Wednesday that it has been advised by the FDA of the scheduling of a Peripheral and Central Nervous System Drugs Advisory Committee meeting on November 14 for the review of the firm's new drug application for tasimelteon, proposed trade name Hetlioz, for the treatment of Non-24-Hour Disorder in the totally blind. Vanda's tasimelteon NDA is presently under Priority Review by the FDA with an action target date under the Prescription Drug User Fee Act of January 31, 2014.

Portola Pharmaceuticals Inc. (NASDAQ:PTLA): Closing price $25.68
Portola said today that it has initiated an underwritten public offering of shares of its common stock, and expects to raise aggregate proceeds of roughly $100 million. It is also expected that the offering will include shares from certain existing stockholders. The company will not receive any proceeds from the sale of shares by the selling stockholders, and intends to use the net proceeds, along with its other capital resources, to continue to advance its three lead assets independently to key milestones. Shares closed up 11.93 percent at $25.55 Wednesday.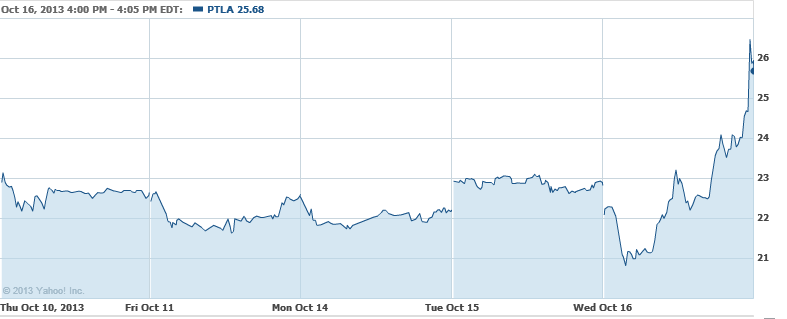 Don't Miss: Here Are 5 Hurdles for Obamacare to Jump.