4 Healthcare Stock Stories Making a Monday Buzz
Eli Lilly and Co. (NYSE:LLY): Closing price $52.79
Lilly, facing a patent cliff of forbidding proportions, might get a $15-billion break if it can manage to win a closely observed patent battle with the generic drugmaker Teva Pharmaceutical Industries. Although many do not expect Lilly to win, several patent attorneys and industry analysts opine that the patent being challenged by Teva, starting Monday in Indianapolis federal court, will "pass legal muster."
Last summer, the United States Court of Appeals in Washington upheld the validity of the basic patent on the chemical structure of Alimta, which protected Lilly's $2.6 billion-a-year lung cancer drug from generics until January 2017.
Are these stocks a buy or sell? Let us help you decide.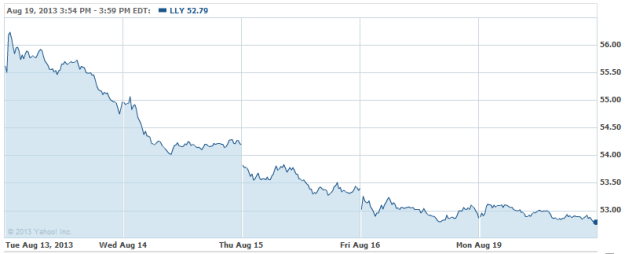 Cigna Corp. (NYSE:CI): Closing price $77.43
Cigna is to become the first domestic health insurer to require genetic counseling nationwide before it will pay for tests for hereditary breast and ovarian cancer, which could impact sales for Myriad Genetics Inc. David Finley, a national medical officer for Cigna, said that the policy affects tests for the BRCA1 and BRCA2 genes, which are the most common cause of hereditary breast cancer, along with genes for hereditary colon cancer, and the heart abnormality long QT syndrome.
Further, should other insurers follow Cigna's lead, it may cut sales growth for Myriad, as the company's diagnostics helped generate $613.2 million in revenue in the fiscal year ended June 30 and sales are forecast to rise by 13 percent in fiscal 2014, said 19 analysts' estimates compiled by Bloomberg.
Are these stocks a buy or sell? Let us help you decide.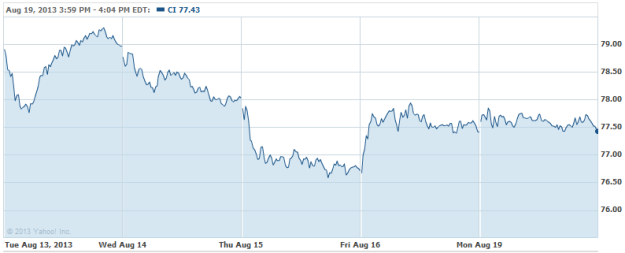 Cell Therapeutics, Inc. (NASDAQ:CTIC): Closing price $1.10
On Monday, Cell Therapeutics said that the Transparency Commission of the French National Health Authority has granted market access for the medicinal product Pixuvri (pixantrone) as a monotherapy for the treatment of adult patients suffering from multiply relapsed or refractory aggressive B-cell non-Hodgkin lymphoma (patients with aggressive B-cell NHL who failed 2 or 3 prior lines of therapy).  The next and final phase in France's pharmaceutical reimbursement process is inclusion on the list of medicines okayed for hospital use and subsequent publication in the Journal Officiel in France, which the company now intends to pursue.
Are these stocks a buy or sell? Let us help you decide.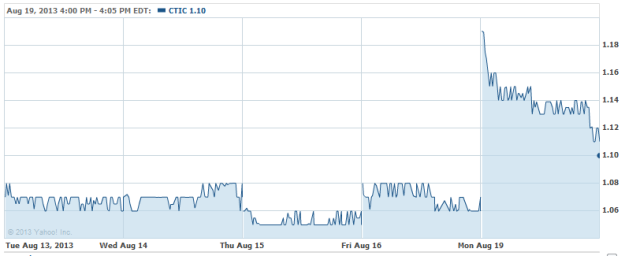 Tonix Pharmaceuticals Holding Corp. (NASDAQ: TNXP): Closing price $3.65
Tonix has presented results from nonclinical studies of cyclobenzaprine, the active ingredient of Tonix's lead candidate, TNX-102 sublingual tablet (TNX-102 SL), at the International Pain Society's Ninth World Congress on Myofascial Pain Syndrome and Fibromyalgia Syndrome in Seattle. Tonix is a specialty pharmaceutical firm developing novel treatments for challenging disorders of the central nervous system, including fibromyalgia, and post-traumatic stress disorder.
Are these stocks a buy or sell? Let us help you decide.