4 Healthcare Stock Stories Making Headlines on Thursday
Merck & Co. (NYSE:MRK): Closing price $48.35
On Wednesday, Marck said that it would be eliminating the jobs of some 8,500 employees, as a part of its refocusing upon research on treatments for Alzheimer's and diabetes and other diseases that promise solid profit. The 8,500 job losses form only a part of the 16,000 total, as the pharmaceutical major said that it will slash its workforce by 20 percent during the next two years.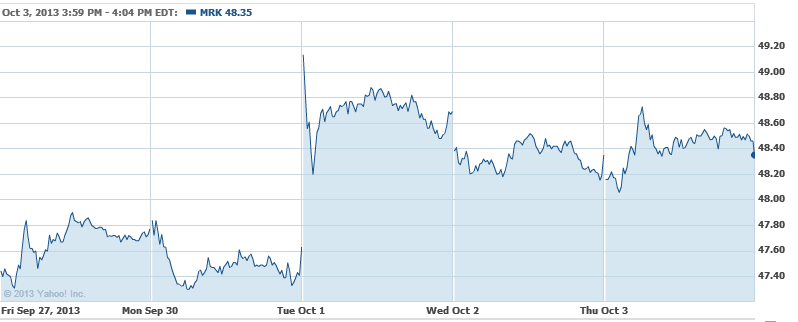 Eli Lilly and Co. (NYSE:LLY): Closing price $48.79
Beginning in 2014, Lilly expects to introduce several new medicines to treat unmet patient needs, and return to revenue growth and expanding margins after next year, according to senior executives Thursday the firm's global research and corporate headquarters. Beyond that, Lilly reaffirmed its near-term goals of generating a minimum of $20 billion in revenue, $3 billion in net income and $4 billion in operating cash flow through 2014, regardless of the impending loss of revenue due to a patent cliff for two major products in the United States, beginning in December.

Isis Pharmaceuticals, Inc. (NASDAQ:ISIS): Closing price $35.81
Isis reported Thursday it dosed the first infant in the 12 mg dose group in the Phase 2 study evaluating ISIS-SMN in infants who have Type I spinal muscular atrophy. The Phase 2 study was created to permit Isis to define the optimal dose for the larger Phase 2/3 study in infants, and to provide safety and tolerability data. The firm plans to finish this study and initiate the larger Phase 2/3 pivotal study early in 2014. Isis has earned a $2-million milestone payment from Biogen Idec associated with the advancement of this study.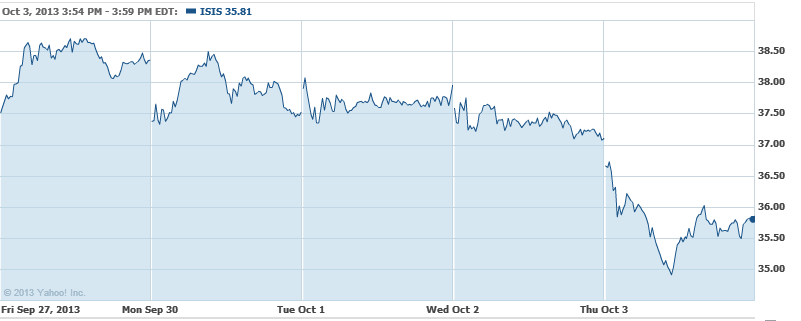 Sanofi-Aventis (NYSE:SNY): Closing price $
The Sanofi company Genzyme announced on Thursday positive new data from the TOPIC evaluation of its once-daily, oral Aubagio (teriflunomide). These new data, presented at the 29th Congress of the European Committee for Research and Treatment in  Multiple Sclerosis, include news that Aubagio 14 mg significantly lowered the risk of a new clinical relapse or MRI lesion over the two year study period.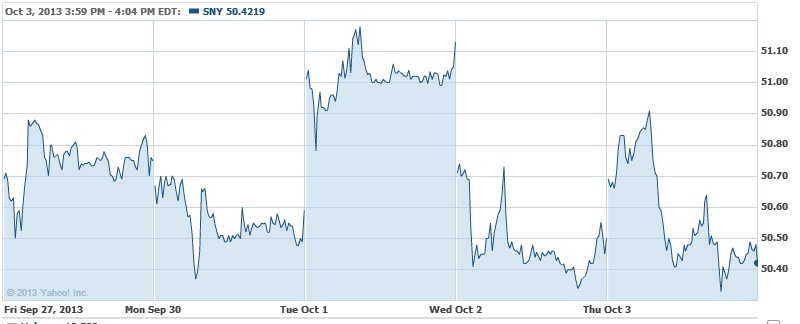 Don't Miss: "Opt Out of Obamacare" Campaign Has Some Major Flaws.