4 Healthcare Stock Stories Making Midweek Headlines
Cardiome Pharma Corp. (NASDAQ:CRME) Closing price $2.15
On Wednesday, Cardiome announced an arrangement with AOP Orphan Pharmaceuticals, headquartered in Vienna, to commercialize Brinavess (vernakalant intravenous) in certain European markets. The Austrian firm will support Cardiome in gaining product registrations necessary for the marketing and sale of the drug in the AOP Orphan countries, and it will actively request that customers promote the product. Through the terms, AOP Orphan has consented to specific yearly commercial goals for Brinavess. Financials of the transaction were not disclosed.
Are these stocks a buy or sell? Let us help you decide.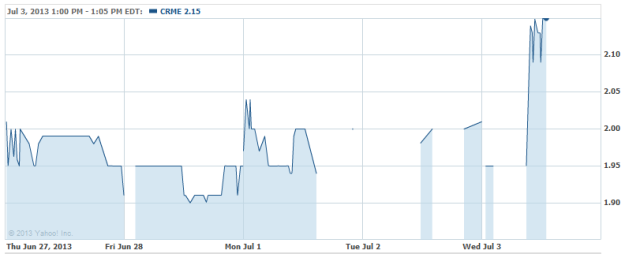 Novogen (NASDAQ:NVGN): Closing price $3.88
Novogen says that it has set up a funding agreement with a sophisticated institutional investor in the United States, supplying it up to $5 million of working capital during the next 3 years. The transaction will back the primary goal of Novogen in bringing CS-6 through into the clinic, together with the secondary goal of identifying a panel of phenotype-specific anti-cancer drugs, in hopes of personalizing chemotherapy. Funding will be provided as needed up to $5 million, while staged discretionary funding will minimize dilution to current shareholders. Through the terms, the investor will invest as much as $5 million in Novogen by buying up to 5 interest-free convertible securities.
Are these stocks a buy or sell? Let us help you decide.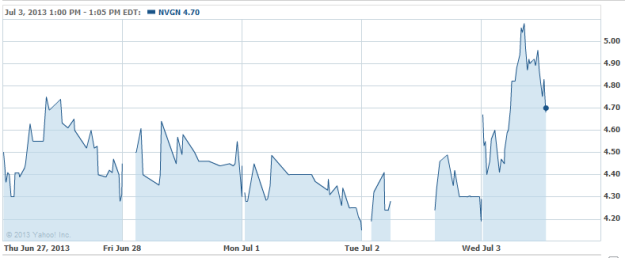 Cell Therapeutics (NASDAQ:CTIC): Closing price $1.03
The company said Wednesday that a comprehensive article summarizing preclinical and clinical data for pacritinib, which is an oral JAK2/FLT3 inhibitor, authored by Srdan Verstovsek, M.D., Ph.D., et al., was published in Drugs of the Future 2013. The article examines the preclinical pharmacology and pharmacokinetics, along with the safety and efficacy results from the Phase 1 and 2 clinical evaluations of pacritinib in patients having myelofibrosis and lymphoma.
Are these stocks a buy or sell? Let us help you decide.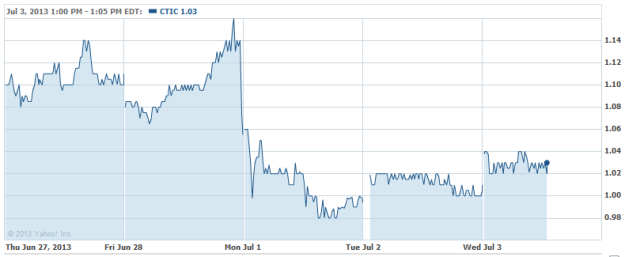 Achillion Pharmaceuticals (NASDAQ:ACHN): Closing price $6.30
The firm recently received a setback when the FDA put a clinical hold on its hepatitis C viral infection candidate sovaprevir, after seeing elevations in ALT liver enzymes in a phase 1 healthy subject drug-drug interaction study. The phase I evaluation was being conducted to examine the effects of concomitant administration of sovaprevir with Norvir (ritonavir) boosted Reyataz (atazanavir). As a result, Achillion voluntarily ceased further dosing in the study, and advised the FDA about its observations.
Are these stocks a buy or sell? Let us help you decide. Check out our Stock Picker Newsletter now.