4 Healthcare Stock Stories Making Midweek Medical Waves
Eli Lilly and Company (NYSE:LLY): Closing price $51.37
United States regulators are examining the injectable form of the antipsychotic Zyprexa, subsequent to the deaths of two patients, three to four days after receiving the drug. The two patients were given intramuscular injections of Zyprexa Relprevv and were later discovered to have very high levels of the drug in their systems. An FDA statement on Wednesday indicated that such levels may cause delirium, cardiac arrest and arrhythmias, and coma or loss of consciousness. However, the  agency is not pronouncing the deaths the result of overdoses, and said that the patients had not been given an inappropriate amount of the drug. Lilly spokesman Morry Smulevitz commented via email that "based on the information available to us, we are unable to conclude whether the two deaths were related to administration of Zyprexa Relprevv. However, we are continuing to evaluate this important safety issue and will communicate any clinically significant safety information that affects the product."
Are these stocks a buy or sell? Let us help you decide.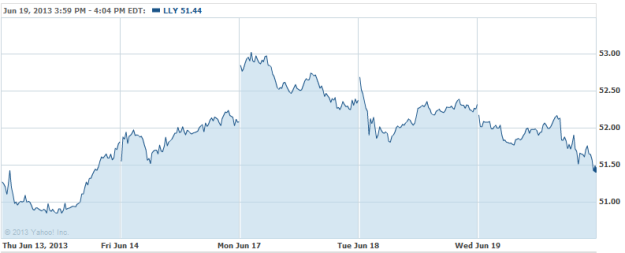 Sarepta Therapeutics (NASDAQ:SRPT): Closing price $39.78
The RNA-based therapeutics developer announced on Wednesday updated data from Study 202, which is a Phase IIb open-label extension evaluation of eteplirsen in patients suffering with Duchenne muscular dystrophy. Results at 84 weeks indicated a continued stabilization of walking ability in eteplirsen-treated patients evaluated on the 6-minute walk test. Study 202 attained its primary endpoint of increased novel dystrophin, as assessed by muscle biopsy at Week 48 and is currently in the long-term extension phase in which patients continue to be followed for safety and clinical outcomes. Eteplirsen is Sarepta's top exon-skipping compound in development for the treatment of patients having DMD with a genotype amenable to skipping of exon 51.
Are these stocks a buy or sell? Let us help you decide.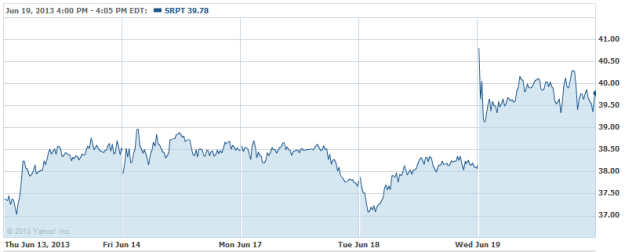 Teva Pharmaceutical Industries (NYSE:TEVA): Closing price $39.30
Resolving an investor class-action lawsuit filed in Tel Aviv, which contended that the firm violated Israeli and United States rules for over a decade, Teva agreed to publish its individual executives' compensation. The generic drugmaker will start releasing details for each of its top managers, beginning with its 2013 annual financial report, according to an e-mailed statement. Shareholders Sharon Hannes and Ehud Kamar believe that Teva's decision could lead to increased transparency among other firms with shares traded in both Israel and abroad, which followed the company's example when it ceased the publication of individual pay.
Are these stocks a buy or sell? Let us help you decide.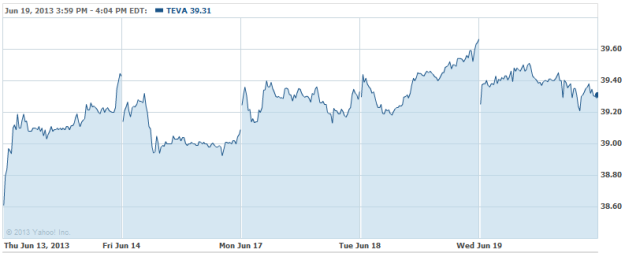 Bristol-Myers Squibb Company (NYSE: BMY): Closing price $46.05
On Wednesday, the company said that its board has elected Dinesh C. Paliwal to become a member, effective July 1st. Paliwal will serve as a member of the Committee on Directors and Corporate Governance. He was born and raised in India, and at this time, is the chairman, president and chief executive officer of Harman International Industries. Before joining Harman, he spent 22 years with ABB Group, which is in power and automation technologies with operations in  about 100 countries. It was at ABB that he last held the dual role of president, Global Markets and Technologies of ABB, and chairman and chief executive officer of ABB North America.
Are these stocks a buy or sell? Let us help you decide. Check out our Stock Picker Newsletter now.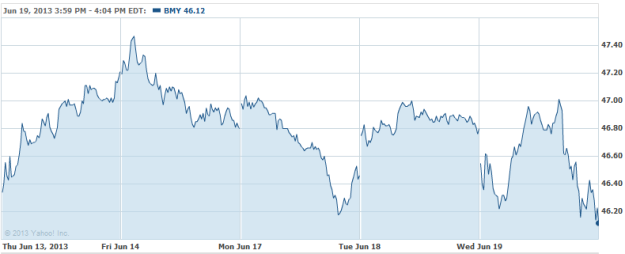 Don't Miss: Will This Ad Convince Americans of Obamacare's Benefits?