4 Healthcare Stock Stories Making Waves On Monday
Eli Lilly and Company (NYSE:LLY): Closing price $52.36
Lilly will pay the Canadian drug developer Transition Therapeutics $7 million, and assume control of the development of a potential diabetes treatment that  is moving into mid-stage clinical testing. Transition reported on Monday that it also could receive as much as $240 million in additional royalties along with royalties once the treatment is eventually approved and sold. The company will also pay Lilly $14 million in three installments during the mid-stage study. The treatment, which is labeled TT-401, is being developed to treat the most common form of diabetes, type 2, and the accompanying obesity.
Are these stocks a buy or sell? Let us help you decide.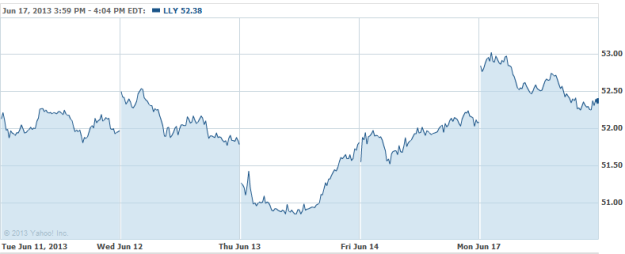 Celgene Corporation (NASDAQ:CELG): Closing price $117.70
On Monday, Celgene International Sàrl was advised that the European Commission has modified the marketing authorization for Revlimid. This action means that the drug is now cleared to treat patients having transfusion-dependent anemia because of low or intermediate-1 risk myelodysplastic syndromes linked with an isolated deletion 5q cytogenetic abnormality, when other therapeutic options prove insufficient or inadequate.
Are these stocks a buy or sell? Let us help you decide.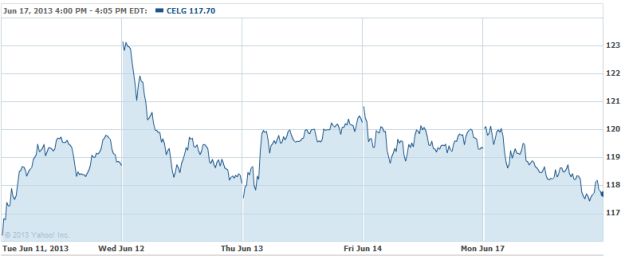 Valeant Pharmaceuticals International (NYSE:VRX): Closing price $84.82
Valeant announced Monday that it has filed a preliminary prospectus supplement to its effective shelf registration statement on Form S-3 and has also produced a similar filing with securities regulatory authorities in each province of Canada in regards to a public offering of its common shares, through which to raise gross proceeds of around $1.75 billion. The firm will also allow the underwriters an option, exercisable for a period of 30 days after the date of the final prospectus supplement, to buy additional shares equal to as much as 15 percent of the common shares initially sold.
Are these stocks a buy or sell? Let us help you decide.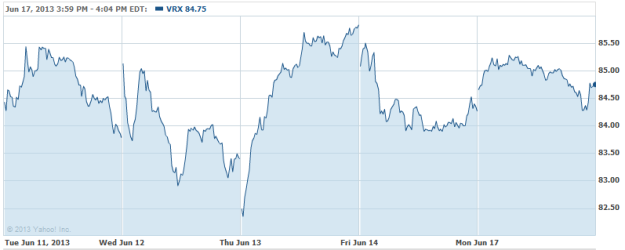 MannKind Corporation (NASDAQ:MNKD):Closing price $7.54
The corporation announced Monday that all follow-up visits have been finalized for the patients enrolled in Study 175, which is a Phase 3 clinical evaluation of Afrezza (insulin human [rDNA origin]) inhalation powder, an investigational, ultra rapid-acting mealtime insulin therapy, conducted utilizing MannKind's next-generation inhaler. The company expects to release data from this study later in the summer. Study 175 examined Afrezza using the next-generation inhaler in patients suffering from type 2 diabetes whose disease is inadequately controlled on metformin, with or without a second or third oral medication.
Are these stocks a buy or sell? Let us help you decide.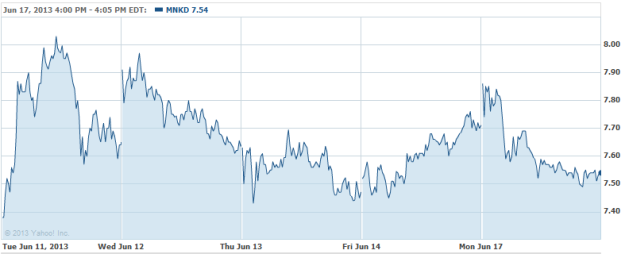 Don't Miss: Wanted: Legal Experts to Navigate Obamacare.