4 Healthcare Stock Stories Making Waves On Thursday
GlaxoSmithKline (NYSE:GSK): Closing price $49.52
The United Kingdom-based firm is investing $23.5 million in a new venture fund through which to invest in drugs for rare diseases, highlighting the increasing role of large drugmakers in supporting start-up companies. GSK, along with several of its rivals, is becoming more active in funding early-stage firms, indicating both a desire to access smart ideas from outside their own labs and a lack of finance from many traditional venture capital firms.
Are these stocks a buy or sell? Let us help you decide.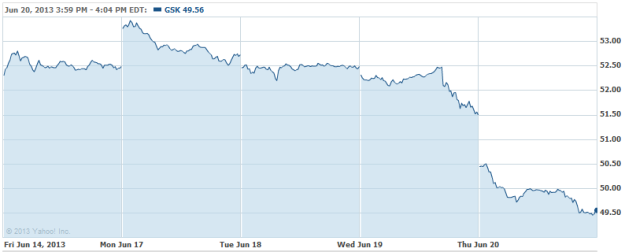 Bristol-Myers Squibb Company (NYSE:BMY): Closing price $44.58
On Thursday, Bristol-Myers Squibb and Otsuka America Pharmaceutical said that the FDA has cleared an update to the Sprycel (dasatinib) product labeling, which now includes three-year efficacy and safety data in patients having newly-diagnosed Philadelphia chromosome-positive chronic myeloid leukemia in chronic phase, and five-year data in CP Ph+ CML patients who are resistant or intolerant to Gleevec. Sprycel is a kinase inhibitor indicated for the treatment of adults suffering from newly diagnosed CP Ph+ CML. The effectiveness of Sprycel is dependent upon cytogenetic response and major molecular response rates. The trial is ongoing and further data will be required to determine long-term outcome.
Are these stocks a buy or sell? Let us help you decide.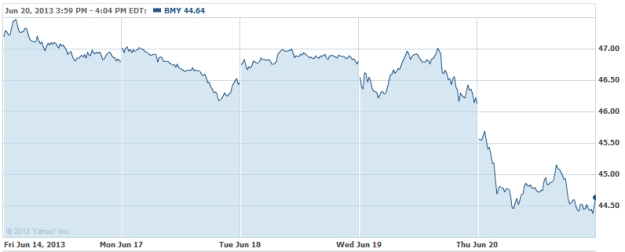 Celgene Corporation (NASDAQ:CELG): Closing price $113.51
Celgene's wholly-owned subsidiary Celgene International Sàrl announced Thursday that results from two studies evaluating the combination of Revlimid(lenalidomide) and rituximab in various non-Hodgkin's lymphomas were presented at the 12th International Conference on Malignant Lymphoma (ICML) in Lugano. Executive Vice President, Hematology and Oncology for Celgene Corporation Jean-Pierre Bizzari, M.D., said that "the increasing volume of clinical evidence evaluating combinations utilizing Revlimid plus rituximab provide us powerful insight into the potential of antibody-dependent cellular cytotoxicity in lymphomas, and the potential of these novel combinations in patients in subtypes with a poor prognosis. We look forward with great interest to further data from the  studies presented at this year's ICML conference."
Are these stocks a buy or sell? Let us help you decide.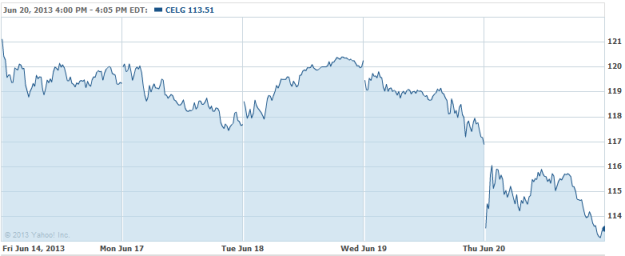 Covidien (NYSE:COV): Closing price $61.33
The worldwide provider of healthcare products announced that an independent study performed by the University of Edinburgh has successfully shown the effectiveness of Covidien's Kendall SCD system with Vascular Refill Detection Technology on immobile stroke patients. The results of the CLOTS 3 trial were presented at the European Stroke Conference by Professor Martin S. Dennis of the University of Edinburgh's Division of Clinical Neurosciences, and they were also published in The Lancet.
Are these stocks a buy or sell? Let us help you decide. Check out our Stock Picker Newsletter now.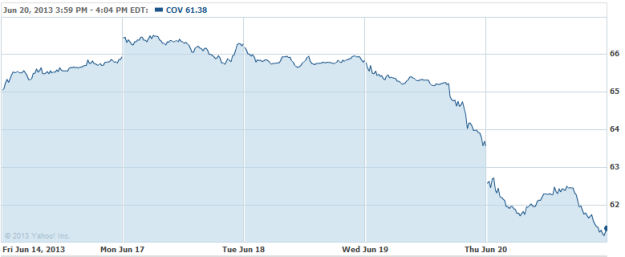 Investing Insights: Can Pfizer Discover Higher Prices?