4 Healthcare Stock Stories Needing Midweek Scrutiny
Amgen (NASDAQ:AMGN): Closing price $96.37
On Wednesday, Amgen said that the Phase 3 TRINOVA-1 trial evaluating trebananib plus paclitaxel compared to placebo plus paclitaxel in recurrent ovarian cancer attained its primary endpoint of progression-free survival. A statistically significant difference was observed in survivals with a 34-percent reduction in the risk of disease progression or death. The median rate was 7.2 months in the trebananib arm, versus 5.4 months in the control arm. The primary analysis of overall survival, which is a key secondary endpoint, should mature in 2014 in-line with prior guidance. Even though an early imbalance of deaths favoring the control arm was seen, there was an overall favorable survival trend for trebananib in a pre-planned interim analysis.
Are these stocks a buy or sell? Let us help you decide.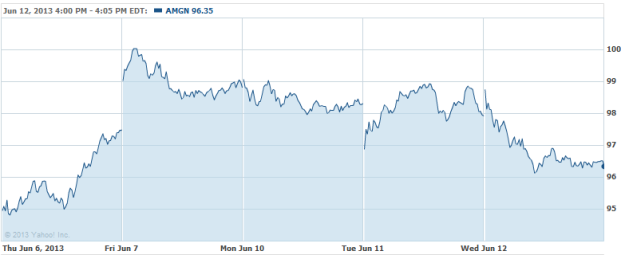 Bristol-Myers Squibb Company (NYSE: BMY): Closing price $46.57
The company has announced the results of year-two data from AMPLE (Abatacept Versus Adalimumab Comparison in Biologic-Naïve rheumatoid arthritis Subjects With Background Methotrexate). AMPLE is a first-of-its-kind trial of 646 patients comparing the subcutaneous formulation of Orencia (abatacept) versus Humira (adalimumab), each on a background of MTX, in biologic naïve patients with moderate to severe arthritis. The data is being presented this week at the European League Against Rheumatism annual congress and showcased during a congress press conference. AMPLE attained its primary endpoint as measured by non-inferiority of ACR20 (American College of Rheumatology 20 percent improvement) at year one. The Orencia regimen obtained comparable rates of efficacy compared with the Humira regimen (64.8 percent versus 63.4 percent respectively).
Are these stocks a buy or sell? Let us help you decide.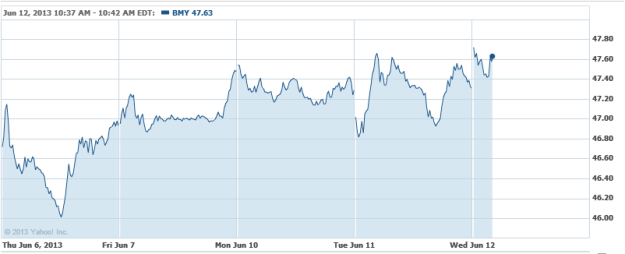 Health Management Associates (NYSE: HMA): Closing price $15.51
Health Management confirmed Wednesday that its board has retained Morgan Stanley and Weil, Gotshal & Manges in regards to the accumulation of shares by Glenview Capital Management, together with the board's ongoing consideration of strategic alternatives and opportunities available to the company. HMA does not intend to report developments connected with the foregoing until the Board thinks further disclosure appropriate. What is more, as previously reported, a committee of the board, comprised of Kent P. Dauten, Donald E. Kiernan, Robert A. Knox and William J. Schoen, has been created to conduct a search for potential candidates to replace Gary Newsome, who will retire effective July 31st.
Are these stocks a buy or sell? Let us help you decide.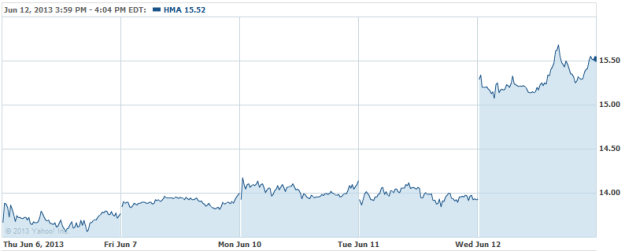 BG Medicine (NASDAQ:BGMD): Closing price $1.68
BG said Wednesday that galectin-3 testing has been recognized for the first time in the newly-issued 2013 American College of Cardiology Foundation and the American Heart Association Guideline for the Management of Heart Failure. The ACCF/AHA Guideline was created to help clinicians in choosing the optimal management strategy for individual patients, and gives expert analysis of data on prevention, diagnosis, risk stratification, and treatment.
Are these stocks a buy or sell? Let us help you decide. Check out our Stock Picker Newsletter now.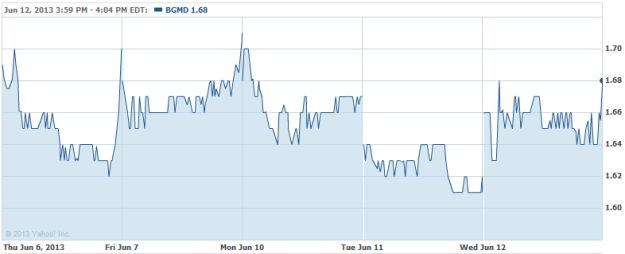 Don't Miss: Aggressive Tactics Proved Too Risky For These Generic Drugmakers.