4 Healthcare Stock Stories Not to be Missed
Sanofi-Aventis (NYSE:SNY): Closing price $48.92
Sanofi's subsidiary Genzyme says that the  FDA has accepted for review its supplemental Biologics License Application file requesting approval of Lemtrada (alemtuzumab) for treating relapsing multiple sclerosis. The firm also reported key highlights from the domestic launch of once-daily, oral Aubagio (teriflunomide).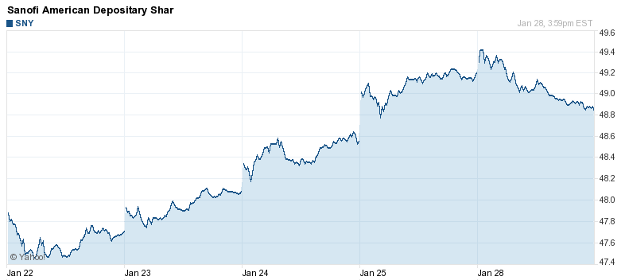 Markets are at 5-year highs! Discover the best stocks to own. Click here for our fresh Feature Stock Pick now!
Spectrum Pharmaceuticals (NASDAQ:SPPI): Closing price $11.64
The bilotech firm announced on Monday its safety findings from the pivotal, registrational Phase 2 BELIEF trial of belinostat, which is a pan-histone deacetylase (HDAC) inhibitor. As featured in an oral presentation at theT-Cell Lymphoma Forum held in San Francisco, January 24th through the 26th, the BELIEF trial safety evaluation indicated that belinostat had an acceptable safety profile in patients suffering from relapsed/refractory peripheral T-cell lymphoma, including patients who have received a previous allogeneic or autologous stem cell transplant.
Idenix Pharmaceuticals (NASDAQ:IDIX) Closing price $4.91
On Monday, Idenix reached a non-exclusive working relationship with Janssen Pharmaceuticals, for the clinical development of all-oral direct-acting antiviral HCV combination therapies. The collaboration will study combinations including IDX719, which is Idenix's once-daily pan-genotypic NS5A inhibitor, simeprevir (TMC435), a once-daily protease inhibitor jointly developed by Janssen and Medivir AB, and TMC647055, a once-daily non-nucleoside polymerase inhibitor, reinforced with low dose ritonavir, which being developed by Janssen. Idenix is a biopharmaceutical firm engaged in the discovery and development of drugs for the treatment of human viral diseases.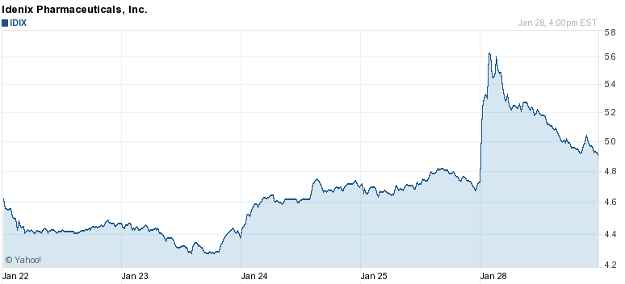 CytRx Corporation (NASDAQ:CYTR) Closing price $2.08
CytRx said that an in vivo trial investigating aldoxorubicin, which is its tumor-targeting conjugate of the widely-used chemotherapeutic agent doxorubicin, in combination with unconjugated doxorubicin, exhibited positive results and provided the basis for the firm's current study of the combination therapy in cancer patients suffering from advanced solid tumors in a Phase 1b clinical trial. CytRx is  a biopharmaceutical research and development company specializing in oncology.
Don't Miss: Here's Why CEOs are Less Confident About 2013.