4 Healthcare Stock Stories Offering Investment Wellness Today
Eli Lilly and Co. (NYSE:LLY): Closing price $51.04
On Thursday, Lilly announced that its experiment cancer drug ramucirumab did not meet its target in a large late-stage study testing it as a front-line treatment for breast cancer. The firm is testing ramucirumab on several types of tumors, among which include colon, liver, and lung cancer. In a separate late-stage evaluation released Thursday, ramucirumab improved the overall survival in patients suffering from stomach cancer, which is a large international market. Lilly intends to file for regulatory approval for gastric cancer and approval could come next year, but the setback in breast cancer is forcing analysts to reduce sales forecasts for the drug.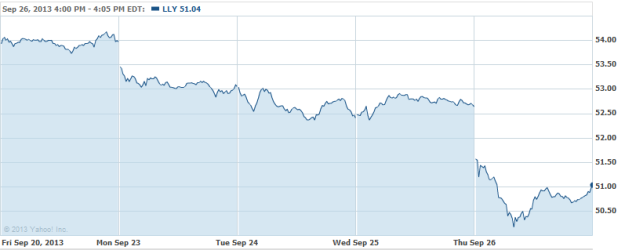 Allergan, Inc. (NYSE:AGN): Closing price $91.56
Allergan and Medytox, Inc. announced Thursday that they have reached a license arrangement through which, upon closing, Allergan will pay Medytox an upfront payment of $65 million, and Medytox will grant Allergan exclusive rights, global outside of Korea, to develop and, upon approval, commercialize certain neurotoxin product candidates currently in development, including a potential liquid-injectable product. Pursuant to the terms, Allergan will make additional contingent payments, including up to a total of $116.5 million upon attaining certain development milestones, up to an aggregate of $180.5 million upon achieving certain commercialization milestones, and royalties on product sales. The closing of the agreement is contingent on attaining certain government approvals.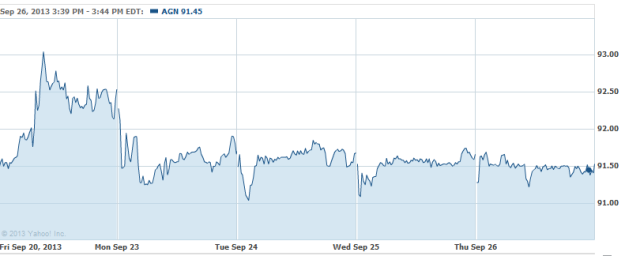 Sarepta Therapeutics, Inc. (NASDAQ:SRPT): Current price $46.52
The developer of RNA-based therapeutics has announced data through Week 96 from Study 202, which is a Phase IIb open-label extension study of eteplirsen in patients suffering from Duchenne muscular dystrophy. Results through almost two years indicated a continued stabilization of walking ability in eteplirsen-treated patients evaluable on the 6-minute walk test. As previously announced, Study 202 attained its primary endpoint of increased novel dystrophin, as assessed by muscle biopsy at Week 48, and is now in the long-term extension phase in which patients continue to be monitored for safety and clinical outcomes.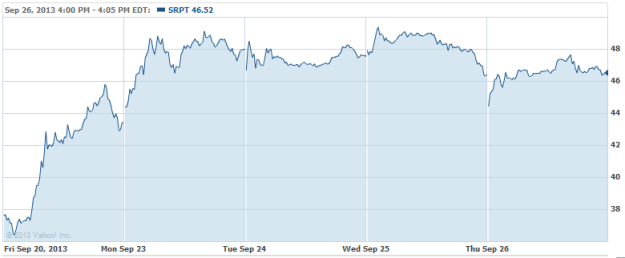 NeoGenomics, Inc. (NASDAQ:NEO): Current price $3.00
NeoGenomics announced Thursday that it is reworking upward its previously-issued guidance for the third quarter. The firm now anticipates revenue of between $16.6 and $16.9 million and earnings per share of 1 to 2 cents in the quarter. NeoGenomics had originally guided to revenue of between $15.8 and $16.4 million and earnings per share of zero to 1 cent on July 31.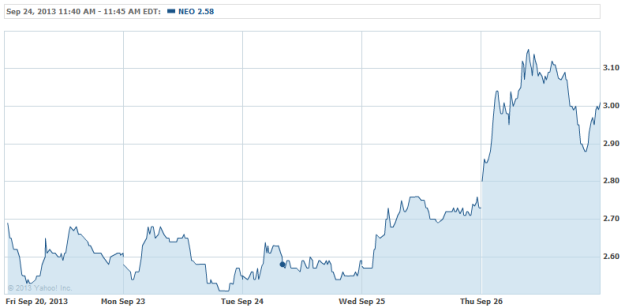 Don't Miss: Here's Why Unemployment Is Still at Unacceptable Levels