4 Healthcare Stock Stories Popping on Friday
Merck & Co. (NYSE:MRK): Closing price $47.29
United States District Judge John Keenan in Manhattan, overseeing consolidated litigation against Merck & Co in regards to jaw injuries allegedly caused by the osteoporosis drug Fosamax, has ordered hundreds of cases dispersed to courts around the United States for trial. The ruling represents an unusual and potentially very expensive development for Merck.
Most often, firms find it easier to reach resolutions in mass tort cases that are unified before one judge. The judge's order on Thursday mandates that 200 cases per month be sent back to the courts in which they were initially filed, starting with the oldest ones. Merck spokeswoman Lainie Keller said that the company "is committed to defending its conduct in regard to Fosamax and has confidence in its defense strategy that has had so much success in the courts."
Are these stocks a buy or sell? Let us help you decide.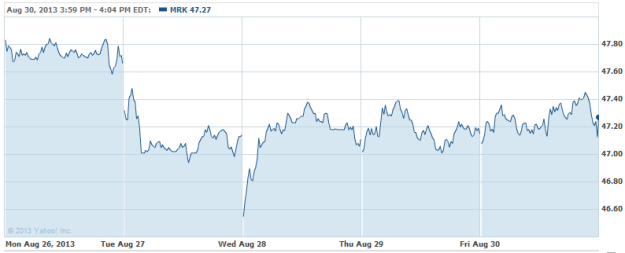 Sanofi-Aventis (NYSE: SNY): Closing price $47.78
Sanofi's Genzyme company said that the European Commission has granted marketing authorization for Aubagio (teriflunomide) 14 mg, a once-daily oral therapy indicated for the treatment of adult patients suffering from relapsing remitting multiple sclerosis.
The EU approval of Aubagio was based on information from the Phase III TEMSO (Teriflunomide Multiple Sclerosis Oral) and TOWER (Teriflunomide Oral in persons with relapsing remitting multiple sclerosis) trials. In these trials, Aubagio significantly lowered the annualized relapse rate and the time to disability progression at two years versus placebo.
Are these stocks a buy or sell? Let us help you decide.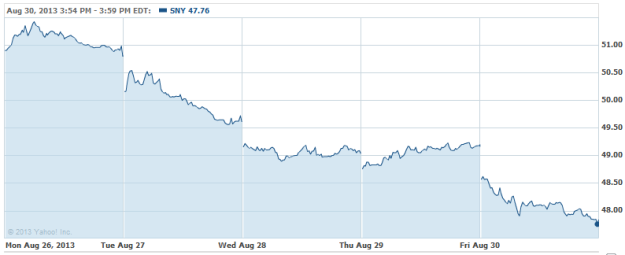 Teva Pharmaceutical Industries Ltd. (NYSE: TEVA): Closing price $38.22
On Friday, Teva reported top-line results of its final Phase III clinical study for armodafinil (NUVIGIL) as adjunct therapy in adults suffering with major depression connected with bipolar I disorder. The study reached statistical significance in a number of important secondary endpoints, like responder rate and remission. However, it did not attain its primary endpoint, which was to determine whether armodafinil treatment (150mg per day) is more effective than placebo as adjunct therapy to mood stabilizers and/or atypical antipsychotics.
Are these stocks a buy or sell? Let us help you decide.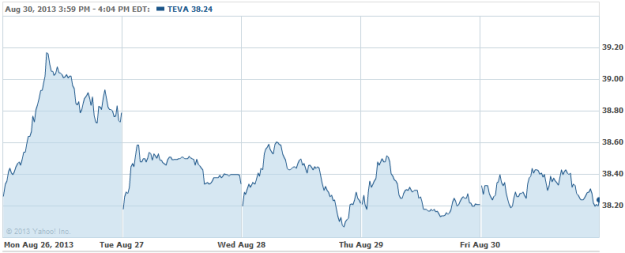 Tekmira Pharmaceuticals Corp. (NASDAQ:TKMR): Closing price $5.43
Tekmira has announced the publication of two articles in peer-reviewed scientific journals The Journal of Infectious Diseases and New England Journal of Medicine, that highlight the results enabled by Tekmira's lipid nanoparticle tech. The evaluation published in the Journal of Infectious Diseases results from a collaboration between Tekmira and the University of Texas Medical Branch.
The paper, entitled Protection Against Lethal Marburg Virus Infection Mediated by Lipid Encapsulated siRNA indicated 100-percent protection in guinea pig models against the Angola, Ci67 and Ravn strains of the Marburg virus, employing a broad spectrum RNAi therapeutic enabled by Tekmira's LNP.
Are these stocks a buy or sell? Let us help you decide.