4 Healthcare Stock Stories Prescribed for Investors
Neurocrine Biosciences (NASDAQ:NBIX): Closing price $9.19
On Wednesday the company announced that two additional patents have been granted related to its proprietary Vesicular Monoamine Transporter 2 inhibitor NBI-98854. European Patent Number 2,081,929 was granted in January by the European Patent Office, with an expiry date of November 2027, covering chemical compositions, pharmaceutical compositions and also uses of various compounds, among which include the firm's Phase IIb clinical candidate NBI-98854. Additionally, the United States Patent and Trademark Office recently granted a second patent for NBI-98854.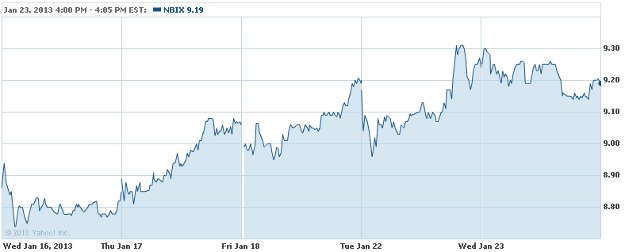 Celgene Corporation (NASDAQ:CELG): Closing price $98.22
Celgene's subsidiary Celgene International Sàrl reported Wednesday that its phase III clinical trial of Abraxane (paclitaxel protein-bound particles for injectable suspension) (albumin-bound), in combination with gemcitabine in treatment-naïve patients with metastatic pancreatic cancer showed a statistically significant improvement in overall survival compared to patients receiving only gemcitabine.

Are these stocks a buy or sell? Let us help you decide. Check out our Wall St. Cheat Sheet Stock Picker Newsletter now >>
OPKO Health (AMEX:OPK) Closing price $6.32
Opko said Wednesday that it will sell roughly $150 million aggregate principal amount of convertible senior notes due in 2033 in a private offering. The interest rate, conversion rate and other terms will be decided at the time of pricing of the offering. The firm intends to use the net proceeds for general corporate purposes, among which include research and development expenses, the stepping-up of clinical trials, purchases of new technologies or businesses and other business opportunities.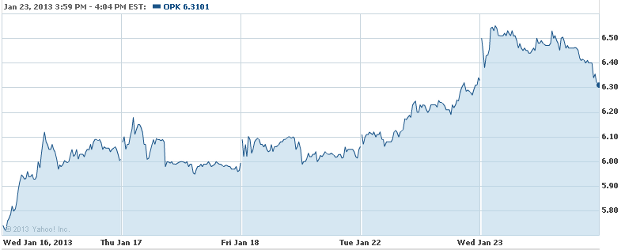 Vanda Pharmaceuticals (NASDAQ:VNDA): Closing price $4.24
Vanda sees positive results for the second Phase III study of tasimelteon for the treatment of Non-24-Hour Disorder. The RESET study (Randomized-withdrawal study of the Efficacy and Safety of Tasimelteon to treat Non-24-Hour Disorder), showed the maintenance effect of 20mg of tasimelteon to entrain melatonin and cortisol circadian rhythms in individuals suffering from Non-24.  Tasimelteon-treated patients maintained their clinical benefits while placebo treated patients exhibited a significant deterioration in measures of daytime naps, nighttime sleep, and the timing of sleep. Non-24 is a serious, rare circadian rhythm disorder that affects a majority of totally blind individuals who lack light perception and cannot reset their master body clock to the 24-hour day. Presently there is no approved treatment for Non-24.

Investing Insights: Is Intuitive Surgical Likely to Outperform in 2013?