4 Healthcare Stock Stories Prescribed for Investors
Teva Pharmaceutical Industries Limited (NYSE:TEVA): Current price $38.83
The Israel-based generic-drug maker Teva might be liable for $2.1 billion in damages because of its selling generic copies of Pfizer's heartburn reliever Protonix prior to the medication's United States patent exclusivity expiring back in 2011. The firm had already set a $670 million reserve aside in the third quarter in case of a Protonix loss, but now in its 2012 annual report filed Tuesday with the Securities and Exchange Commission, it was disclosed that its management estimates the ultimate resolution of this matter could result in a loss of up to $1.4 billion more.

Rosetta Genomics (NASDAQ:ROSG): Current price $4.94
On Thursday, the developer and provider of microRNA-based molecular diagnostics announced that it has received  two notices of allowance from the United States Patent and Trademark Office for Patent Applications 12/661,041 and 12/850,091. The first patent covers the composition of matter for miR-29c, as well as sequence variants, a vector and a probe comprising the same.  The drug is a core element in Rosetta's lead commercial product, miRviewmets2 diagnostic assay for the identification of the tumor of origin in Cancer of Unknown and Uncertain Primary. The second covers the composition of matter for herpes simplex virus 1 miR-H3, miR-H4 and miR-H5, along with sequence variants, a vector and a complementary sequence comprising the same.
Are these stocks a buy or sell? Let us help you decide. Check out our Stock Picker Newsletter now.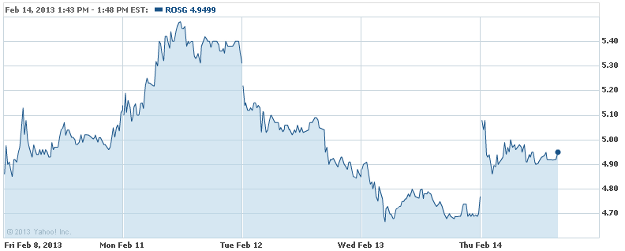 Affymax (NASDAQ:AFFY): Current price $15.63
The company disclosed that it was notified on February 13 by Fresenius Medical Care North America that it has accumulated experience with Omontys (peginesatide) injection in more than 56,600 administrations in over 18,000 patients in its dialysis facilities, and that it will pause further expansion of the Omontys pilot that began in late July of last year. Fresenius sais that it will evaluate the full set of efficacy and safety profile information and that the current scale of their experience with use of Omontys is considered adequate for completion of this analysis.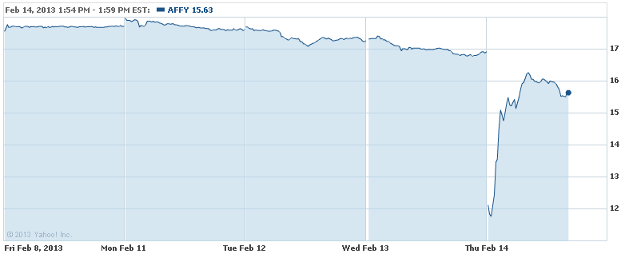 The Dow Chemical Company (NYSE: DOW): Current price $32.65
Cambrex (NYSE:CBM) and Dow and have reached an accord for the former to contract manufacture Dow Hydroxypropyl Methylcellulose Acetate Succinate for Drug Solubility Enhancement. This agreement marks the final phase in building on the solubilization partnership that Dow and Bend Research announced in October 2012, and it will assist Dow in commercially supplying solubility enabling excipients.
Don't Miss: Obama Gives a Shout-Out to These Companies.