4 Healthcare Stock Stories Prescribed for Investors Today
AstraZeneca Plc. (NYSE:AZN): Closing price $52.52
Europe's counterpart to the FDA has written to AstraZeneca, requesting that it supply added data regarding a United States inquiry into a clinical trial of its new heart drug Brilinta. AstraZeneca depends upon Brilinta as a crucial driver of near-term sales and profit growth, and the unusual decision by the Department of Justice to commence an investigation has heightened worries about the drug's future. The European Medicines Agency said Thursday that it contacted the drug maker earlier this week after the probe was disclosed by the company on October 31.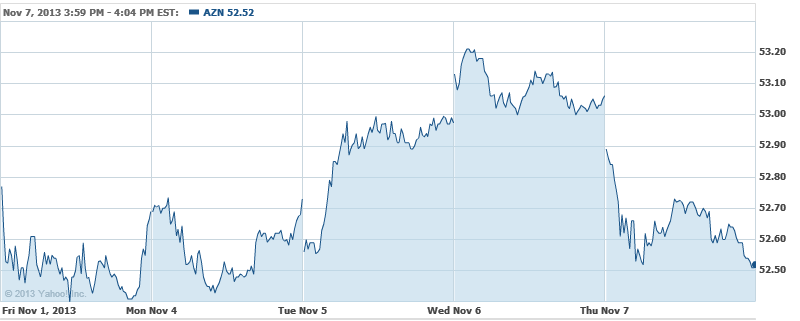 BioCryst Pharmaceuticals Inc. (NASDAQ:BCRX): Closing price $5.09
On Thursday, BioCryst reported that it has dosed the first subject in OPuS-1 (Oral ProphylaxiS-1), a Phase 2a proof of concept clinical trial of orally-administered BCX4161, in patients who have hereditary angioedema. The OPuS-1 trial will evaluate 400 mg of BCX4161 administered three times daily for 28 days in as many as 25 HAE patients who have a high frequency of attacks (1 per week), in a randomized, placebo-controlled, two-period cross-over design. The main aims for the OPuS-1 trial are to estimate BCX4161s degree of efficacy in lowering the frequency of angioedema attacks, and to evaluate the safety and tolerability of 28 days of BCX4161 treatment.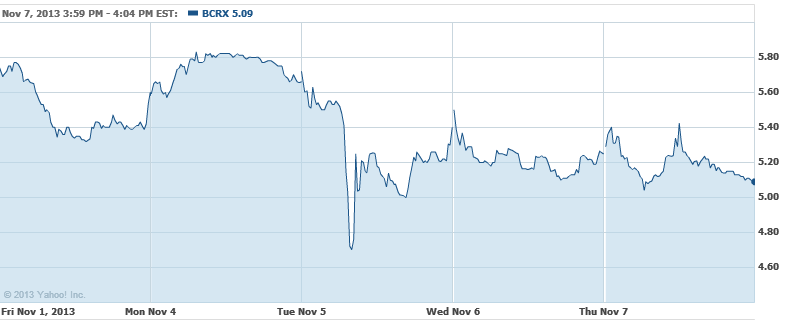 Celldex Therapeutics Inc. (NASDAQ:CLDX): Closing price $24.78
Celldex announced data on Thursday from its ongoing Phase 1 dose-escalation study of the fully human monoclonal antibody CDX-1127. The results imply an "excellent safety profile" and show clear biologic activity and promising signs of clinical activity in an advanced, refractory patient population. No maximum tolerated dose has been reached thus far. The data will be presented in two poster sessions (poster #144 and 146) at the 2013 Society for Immunotherapy of Cancer Annual Meeting, November 7 through 10.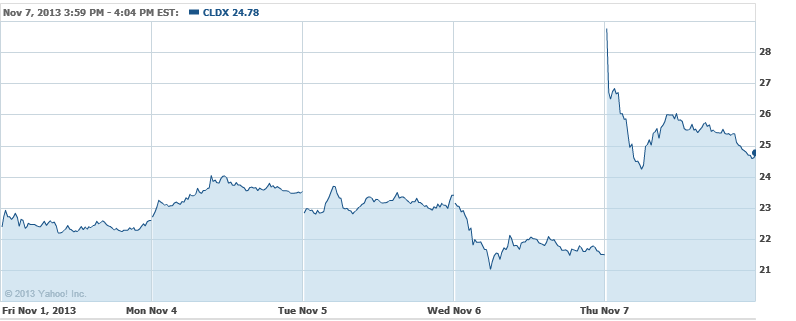 Agenus Inc. (NASDAQ:AGEN): Closing price $2.62
On Thursday, Agenus reported statistically significant top-line results from its Phase 2 randomized, double-blind, multi-center evaluation for HerpV, its a recombinant off-the-shelf therapeutic vaccine candidate for the treatment of patients suffering from herpes simplex virus-2. HerpV contains a defined mixture of peptides representing HSV-2 antigens plus Agenus QS-21 Stimulon adjuvant. Agenus is a developer of therapeutic vaccines for cancer and infectious diseases.

Don't Miss: FDA Process of Elimination: The Trans Fat Transition.