4 Healthcare Stock Stories Promoting Investment Wellness on Wednesday
VIVUS Inc. (NASDAQ:VVUS): Closing price $10.11
On Wednesday, Vivus announced new data published online in Diabetes Care showing the effects of Qsymia (phentermine and topiramate extended-release) capsules CIV, on the progression to type 2 diabetes. In the evaluation, high-risk overweight or obese patients suffering with prediabetes and/or metabolic syndrome who were taking Qsymia during a two-year period experienced reductions of as much as 78.7 percent in the annualized incidence rate of type 2 diabetes, along with to losing weight. The American Association of Clinical Endocrinologists recognizes obesity and prediabetes as significant risk factors for progression to diabetes and allied complications.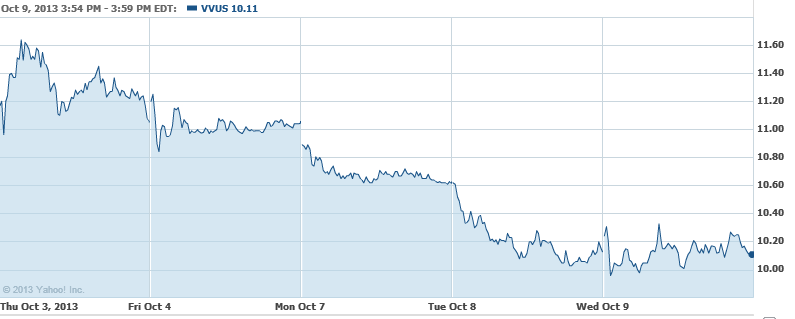 Sarepta Therapeutics, Inc. (NASDAQ:SRPT): Closing price $44.42
The biotech Sarepta was under heavy pressure Wednesday partially because of a new short report from Favus. The report claims that the clinical trial data for eteplirsen is insufficient for early/accelerated FDA clearance, and that eteplirsen probably does not work at all. Shares closed down 11.25 percent at $44.42.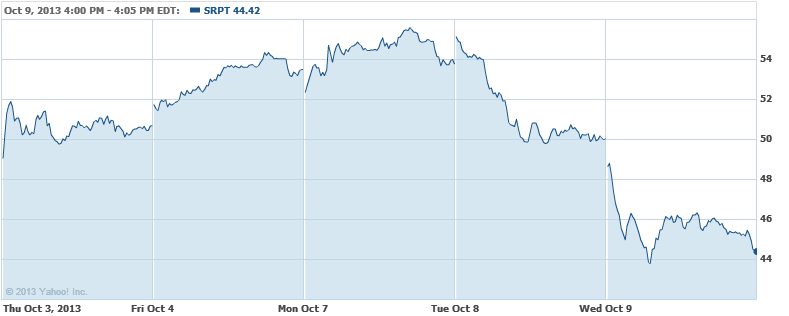 Acura Pharmaceuticals, Inc. (NASDAQ:ACUR): Closing price $1.69
Acura said today that it has entered into distinct settlement agreements with each of Par Pharmaceutical and Impax Laboratories to resolve Acura's patent infringement action pending against them in the United States District Court for the District of Delaware. In the lawsuit, Acura claims that a generic Oxecta product for which each of Par and Impax is separately requesting approval to market in the United States pursuant to an abbreviated new drug application filing with the FDA infringes a U.S. patent owned by Acura.
Par is the first filer of an application for a generic Oxecta product and is entitled to the 180-day first filer exclusivity under applicable law and FDA regulations. Acura is a specialty pharmaceutical firm developing products meant address medication abuse and misuse.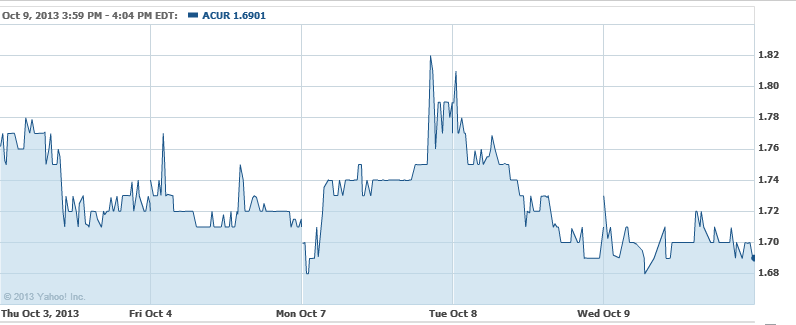 Isis Pharmaceuticals Inc. (NASDAQ:ISIS): Closing price $32.29
Founder, Chief Executive and Chairman Stanley T. Crooke, Ph.D., M.D. of Isis has been awarded the 2013 Distinguished Scientist Award by the San Diego section of the American Chemical Society. The award commemorates Crooke's contributions to Isis Pharmaceuticals, a long-standing top player in drug discovery in the San Diego community. The firm' innovative RNA-based drug discovery tech has created a pipeline of novel antisense drugs with which to treat a wide variety of diseases.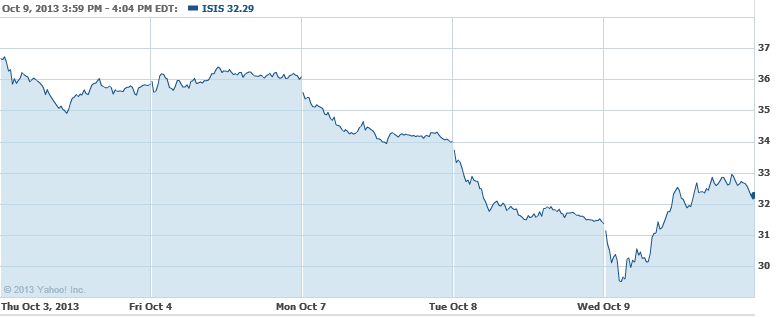 Don't Miss: The Obamacare Saga: Ongoing System Glitches and the Shutdown.