4 Healthcare Stock Stories Ready For a Tuesday Checkup
Eli Lilly and Co. (NYSE:LLY): Closing price $51.79
Experts on Alzheimer's say that they are ready to protest Medicare's newly-issued draft guidelines, which would only pay for an Eli Lilly and Co. diagnostic test for the disease if patients were participating in clinical trials for it. Both Lilly and the Alzheimer's Association have released statements professing disappointment with the decision by the United States Centers for Medicare & Medicaid Services, which pointed to "insufficient" evidence that the tests may enhance patient care. The agency that oversees Medicare did cite evidence that the tests could be useful to rule out Alzheimer's in certain cases that are difficult to diagnose, and to help identify patients who might be good candidates for clinical trials seeking better treatments, or prevention strategies for the disease.
Are these stocks a buy or sell? Let us help you decide.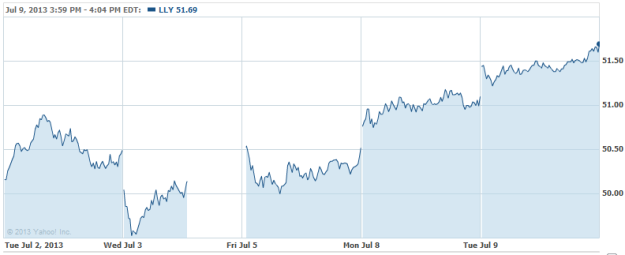 AstraZeneca Group (NYSE:AZN): Closing price $48.56
AstraZeneca is working on three research projects with the University of Cambridge and Cancer Research U.K., in hopes of trying to identify changes in tumor cells and test combinations of its drugs to improve treatment for some cancer patients. The United Kingdom's number-two drugmaker will relocate to Cambridge  from London, and will collaborate with the Cancer Research U.K. Cambridge Institute and the University of Cambridge Department of Oncology on a new technology that measures tumor DNA circulating in the blood, and can identify the presence of cancer in plasma. Additionally, the test can determine whether cancer is progressing and treatment is working. At present, doctors use biopsy or imaging to monitor progression of the disease, and whether the patient is responding to treatment.
Are these stocks a buy or sell? Let us help you decide.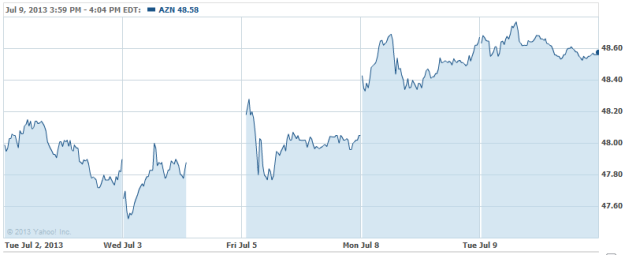 Amgen, Inc. (NASDAQ:AMGN): Closing price $98.33
On Tuesday, Amgen and Servier announced a new collaboration leveraging each firm's commitment to cardiovascular disease. Through the terms, Amgen has gotten commercial rights in the United States to Servier's novel oral drug — okayed in the European Union as Procoralan (ivabradine) — for chronic heart failure and stable angina in patients having elevated heart rates. Beyond that, Amgen has received an exclusive option to develop and commercialize Servier's investigational molecule, S38844, for cardiovascular diseases in the United States. Presently, S38844 is in Phase 2 studies for the treatment of heart failure. Through the partnership, Servier has obtained rights to commercialize omecamtiv mecarbil in Europe. The drug is an activator of cardiac myosin, which is currently being evaluated for potential applications in the treatment of heart failure in patients having systolic dysfunction.
Are these stocks a buy or sell? Let us help you decide.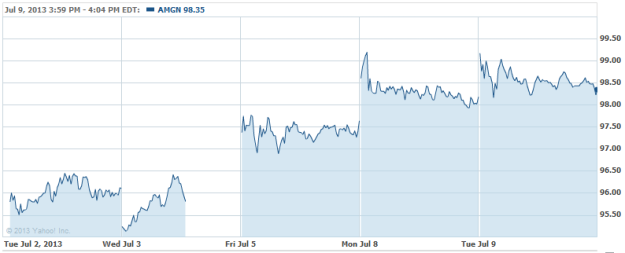 Abbott Laboratories (NYSE:ABT): Closing price $34.74
Abbott will reduce the prices of its primary infant formula products in China by up to 12 percent, making it the fourth overseas company to do so a week after the government launched an inquiry into possible price-fixing. Abbott will lower prices of its products, including its Similac and Pediasure brands, by between 4 and 12 percent in China, according to company spokeswoman Pamela Harrison on Tuesday. The firm joins Nestle, Danone and Dutch producer Royal FrieslandCampina in cutting prices after the National Development and Reform Commission, China's top economic planning agency, began a probe into their pricing of milk powder.
Are these stocks a buy or sell? Let us help you decide. Check out our Stock Picker Newsletter now.