4 Healthcare Stock Stories Ready for a Tuesday Investment Checkup
Novartis AG (NYSE:NVS): Closing price $77
It was announced Tuesday that close to 400 jobs are in peril at Novartis UK, as the firm consults on plans to shut its Horsham site off Parsonage Road. The company remains one of the town's biggest employers, and it said that it will work closely with employees through this 'difficult time.' A Novartis spokesperson has said, "Novartis UK is announcing today that it will initiate consultation on proposals to close its Horsham site in West Sussex. These proposals will impact up to 371 roles, but will be subject to an employee consultation process and final UK board approval."
Vivus Inc. (NASDAQ:VVUS): Closing price $9.45
Vivus's third-quarter results were not quite as pleasing as they might have been, but its drug Qsymia is presently available across the country in more than 31,000 certified retail pharmacies, as more are added, and the firm certifies additional chain and independent pharmacies. After posting a wider-that-anticipated loss, Vivus said in part that, "As part of our ongoing efforts to reduce costs by eliminating expenses that are not essential to expanding the use of Qsymia, we have implemented a cost reduction plan which will reduce our workforce by approximately 20 employees, or 17 percent of our workforce, excluding the sales force of 150, in the fourth quarter of 2013.
"We expect to complete the cost reduction plan by the end of 2013, and anticipate incurring pre-tax non-recurring charges related to employee termination costs, operating lease exit costs, and other associated costs in the range of $6 million to $8 million in the fourth quarter of 2013."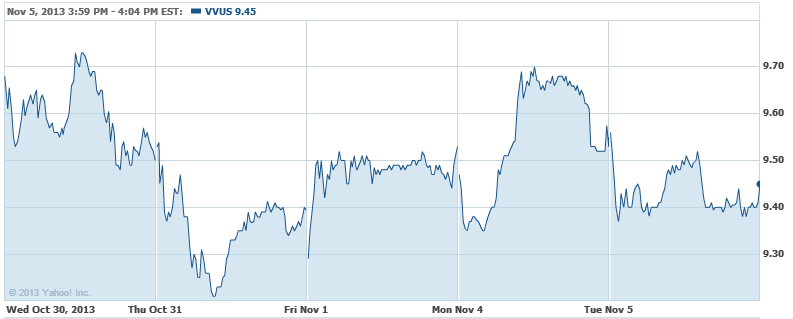 Cyclacel Pharmaceuticals Inc. (NASDAQ:CYCC): Closing price $3.75
On Tuesday, Cyclacel announced that the United States Patent and Trademark Office issued two patents extending the exclusivity of sapacitabine, the firm's lead clinical candidate. The first patent covers, among others, methods of treating cancer comprised of sapacitabine along with DNA methyltransferase inhibitors, including azacitidine and decitabine. The second patent claims methods of use for sapacitabine for the treatment of acute myeloid leukemia and myelodysplastic syndromes, including the dosing regimen employed in SEAMLESS, Cyclacel's ongoing, pivotal, registration-directed, Phase 3 study in front-line elderly AML.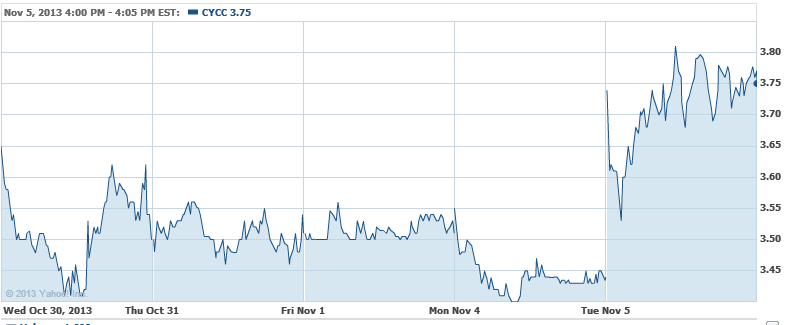 Keryx Biopharmaceuticals Inc. (NASDAQ:KERX): Closing price $13.17
Keryx has announced successful top-line results from its Phase 2 study of Zerenex (ferric citrate coordination complex) in non-dialysis dependent chronic kidney disease (NDD-CKD) patients who have elevated serum phosphorus and iron deficiency anemia. In this study, Zerenex attained both co-primary endpoints, demonstrating highly statistically significant changes in serum phosphorus and transferrin saturation versus placebo over the 12-week treatment period.

Don't Miss: Here's How Pharma Stocks Are Outperforming the S&P 500.