4 Healthcare Stock Stories Ready for a Week of Investment Wellness
Teva Pharmaceutical Industries Ltd. (NYSE:TEVA): Closing price $38.18
On Monday, Teva reported two significant additions to its world oncology biologic portfolio with the recent introductions of Lonquex (lipegfilgrastim) and GRANIX (tbo-filgrastim) Injection, and an update on the review status of balugrastim by the FDA. Teva debuted Lonquex (long-acting G-CSF) in Germany on November 4, marking the first launch as part of an European Union-wide approval. Teva intends to continue the roll-out of Lonquex across additional countries covered by the European Marketing Approval during the coming months.
Also in November, Teva introduced Granix (short-acting G-CSF) in the United States on November 11, representing the entry of the first new G-CSF to the domestic market in over ten years. Lonquex and Granix supply new treatment options for physicians who want to reduce the duration of severe neutropenia in patients with non-myeloid malignancies who are receiving myelosuppressive anticancer drugs linked with a clinically significant incidence of febrile neutropenia.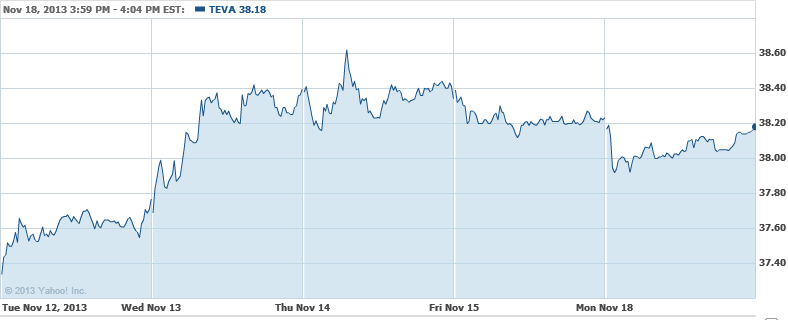 AbbVie Inc. (NYSE:ABBV): Closing price $48.88
AbbVie has released the first phase III results for the investigational three direct-acting-antiviral regimen, plus ribavirin in patients chronically infected with genotype 1 hepatitis C virus. In the 631-patient SAPPHIRE-I study, patients who are new to therapy receiving 12 weeks of AbbVie's 3D regimen attained a sustained virologic response at 12 weeks post-treatment of 96 percent. The majority of patients were GT1a, considered the more difficult-to-treat subtype, and the SVR rates of GT1a and GT1b were 95 percent and 98 percent, respectively. The rate of virologic relapse or breakthrough was low, occurring in 1.7 percent of patients receiving the 3D regimen.

Cardiovascular Systems Inc. (NASDAQ: CSII): Closing price $29.75
On Monday, Cardiovascular announced that it will offer and sell 2.1 million shares of its common stock, contingent upon market and other conditions, in an underwritten public offering. All of the shares in the offering will be sold by the firm. CSI also expects to allow the underwriters a 30-day option to buy up to an additional 315,000 shares of its common stock. Cardiovascular Systems is a medical device firm centered on developing and commercializing innovative interventional treatment systems for vascular disease.

Catalyst Pharmaceutical Partners Inc. (NASDAQ:CPRX): Closing price $1.87
Catalyst on Monday said that the journal Epilepsia has accepted for publication an original research paper that shows proof of concept of CPP-115 suppressing infantile spasms in a pre-clinical study. CPP-115 is Catalyst's next-generation GABA aminotransferase inhibitor being created for the treatment of IS. Catalyst also announced plans to begin a Phase I multiple-dose ascending study in the first half of next year to study the safety and tolerability of multiple ascending oral doses of CPP-115. Catalyst a specialty pharmaceutical firm focused on developing safe and effective approved medicines targeting orphan neuromuscular and neurological diseases.

Don't Miss: The 10 Most-Read Books to Add to Your Reading List This Holiday Season.