4 Healthcare Stock Stories Ready for an Investment Checkup
Isis Pharmaceuticals Inc. (NASDAQ:ISIS): Closing price $32.56
Isis reported on Tuesday that it has earned a $1.5 million milestone payment from Biogen IDEC, linked to the advancement of the ongoing Phase 2 study of ISIS-SMN in infants who have spinal muscular atrophy. The Phase 2 study of ISIS-SMN is an open-label, multiple-dose, dose-escalation pilot evaluation in infants who have been diagnosed with Type I SMA. To comply with enrollment criteria, infants must be between the ages of three weeks and seven months, live in close proximity to a study site and pass screening evaluations conducted at study sites.

Sarepta Therapeutics Inc. (NASDAQ:SRPT): Closing price $13.10
Sarepta shares closed down by 64 percent Tuesday after being advised by federal regulators that its potential Duchenne muscular dystrophy treatment was not ready for an application for approval. The FDA considers an application for the drug, eteplirsen, to be premature, said the drug developer. Regulators pointed to recent developments that include results from a rival's study.

GlaxoSmithKline (NYSE:GSK): Closing price $52.19
On Tuesday, GlaxoSmithKline posted top-line results from its Phase III STABILITY trial evaluating the efficacy of its investigational Lp-PLA inhibitor darapladib in adults suffering from chronic coronary heart disease. Darapladib is not approved for use anywhere. The study failed to attain the primary endpoint measure, which was time to first occurrence of any major adverse cardiovascular event from the composite of myocardial infarction (heart attack), stroke, and cardiovascular death (relative risk reduction of 6 percent.

Galectin Therapeutics Inc. (NASDAQ:GALT): Closing price $7.91
Galectin has reported that five of the eight patients have been enrolled and infused in cohort 1 of its blinded Phase 1 clinical trial of GR-MD-02 for patients having nonalcoholic steatohepatitis (NASH or fatty liver disease) with advanced fibrosis. The firm also reported its financial results for the third quarter and first nine months ended September 30. These results are contained in its Quarterly Report on Form 10-Q, which has been filed with the Securities and Exchange Commission.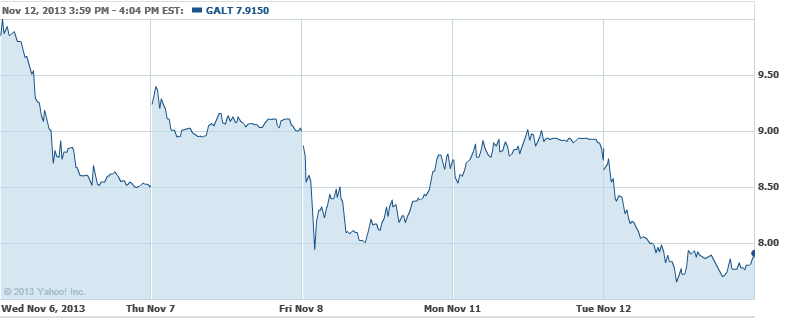 Don't Miss: Will Galena Biopharma Triple Soon?