4 Healthcare Stock Stories Starting a Buzz On Thursday
GlaxoSmithKline (NYSE:GSK): Closing price $50.10
On Thursday, GlaxoSmithKline announced that it has gotten verbal notification that its investigational compound drisapersen  (previously GSK2402968/PRO051) was granted Breakthrough Therapy designation by the FDA for the potential  treatment of patients suffering from Duchenne Muscular Dystrophy. The firm's clinical development plan examines the effect of drisapersen in ambulant (Phases II and III) and non-ambulant boys (Phase I) with DMD having dystrophin gene mutations amenable to an exon 51 skip.
Are these stocks a buy or sell? Let us help you decide.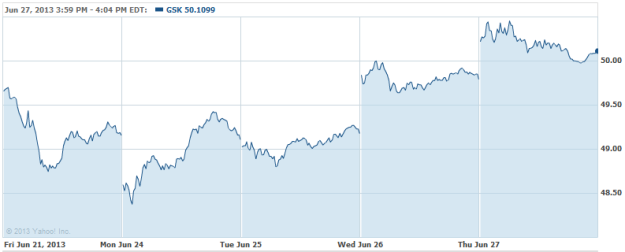 Zogenix (NASDAQ:ZGNX): current price $1.79
Zogenix reported Thursday an exclusive co-promotion arrangement for Migranal (dihydroergotamine mesylate) Nasal Spray in the United States. Through the terms, Zogenix's sales force will start selling Migranal Nasal Spray to its customer base of prescribers, which is mostly composed of headache specialists, neurologists, and related nurse practitioners and physician assistants, in late July. The first term of the accord will be through December 31, 2015 and may be extended by mutual agreement of the parties. Zogenix is a pharmaceutical firm that commercializes and develops products for the treatment of central nervous system disorders and pain
Are these stocks a buy or sell? Let us help you decide.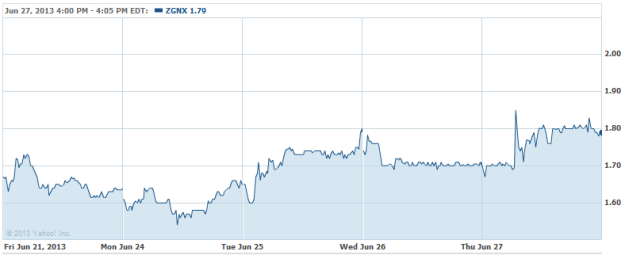 Baxter International (NYSE:BAX): Closing price $69.70
Baxter announced that the FDA has cleared Rixubis (Coagulation Factor IX [Recombinant]) for routine prophylactic treatment, control of bleeding episodes, and perioperative management in adults suffering with hemophilia B. Rixubis is the first new recombinant factor IX okayed for hemophilia B in over 15 years, and is the sole rFIX indicated for both routine prophylaxis and control of bleeding episodes in the United States for adult patients living with this chronic condition.
Are these stocks a buy or sell? Let us help you decide.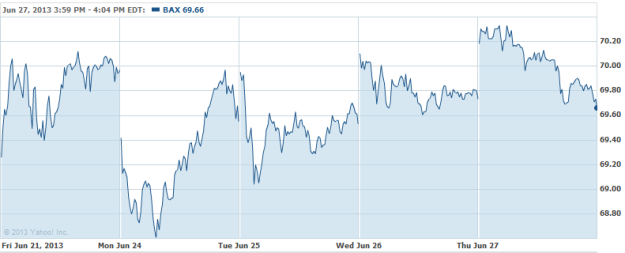 Forest Laboratories (NYSE:FRX): Current price $40.95
On Thursday, Forest reported positive topline results from an 8-week pivotal Phase III clinical trial studying the efficacy and safety of investigational fixed dose combination of nebivolol and valsartan for the treatment of hypertension. The combination of nebivolol and valsartan showed statistically meaningful reductions in diastolic blood pressure compared with both nebivolol alone and valsartan alone at 8 weeks, which constitutes the primary endpoint. The FDC also attained the key secondary endpoint of change from baseline in systolic blood pressure  at 8 weeks. The single pivotal nebivolol/valsartan FDC trial was created to address the required regulatory Combination Rule, comparing a FDC against the highest approved dose of each component drug.
Are these stocks a buy or sell? Let us help you decide.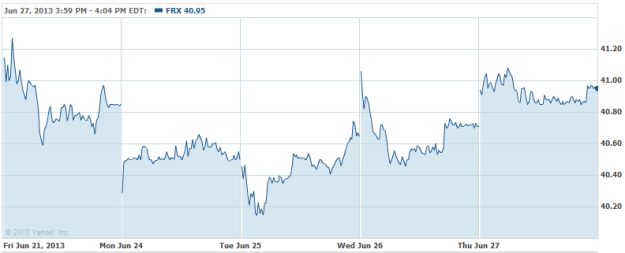 Investing Insights: Will AstraZeneca Discover Rising Prices?