4 Healthcare Stock Stories Starting Off the Short Week
Novartis (NYSE:NVS): Closing price $69.20
Chairman Daniel Vasella will receive a package that might reach $78 million upon his exit, if he abides by a non-compete agreement that disallows him from working for Novartis's rivals. Via an emailed statement, Vasella said the board had agreed to a six-year package with a maximum value of 72 million Swiss francs.

AbbVie (NYSE:ABBV): Closing price $37.55
AbbVie and its partner Roche have suspended five studies on its experimental leukemia and lymphoma drug, following the deaths of two patients from tumor lysis syndrome, according to spokeswoman Tracy Sorrentino for AbbVie. The complication arose from the rapid destruction of malignant cells after treatment that can trigger acute kidney failure. The event occurs most often with large tumors like those found in leukemia and lymphoma patients, according to the National Institutes of Health. AbbVie was the drug firm that split off from Abbott Laboratories at the beginning of the year.
Are these stocks a buy or sell? Let us help you decide. Check out our Stock Picker Newsletter now.

St. Jude Medical (NYSE:STJ): Closing price $41.46
The analyst Josh Jennings at Cowen & Co. downgraded the shares from Neutral to Underperform Friday, in a note to clients in which he said that he thinks that the FDA will conclude there is a significant risk of failure in St. Jude's Durata wires, and that over time, the failure rate for the Optim insulation on Durata wires will increase. Jennings wrote that  "The design differences between the Riata ST and the Durata are minor and do not reduce the risk of lead failure. We do not expect the Durata to ultimately perform at a higher level than the Riata ST from a clinical and safety standpoint."

Amicus Therapeutics (NASDAQ:FOLD): Closing price $2.89
The firm has reported additional 6-month Stage 1 results from the first ongoing Phase 3 global registration study, Study 011, of investigational oral migalastat HCl monotherapy (150 mg, every-other-day) in males and females suffering with Fabry disease who had genetic mutations identified as amenable to migalastat HCl in a cell-based assay. Stage 1 results were showcased in an oral platform presentation at the Lysosomal Disease Network WORLD Symposium by Dr. Fatih Ezgu, Gazi University. Study 011 is comprised of a 6-month, double-blind period  — Stage 1 – when subjects received migalastat HCl 150 mg or placebo, a 6-month open label-follow up period  — Stage 2 – when all patients received migalastat HCl, and an ongoing 12-month open-label extension.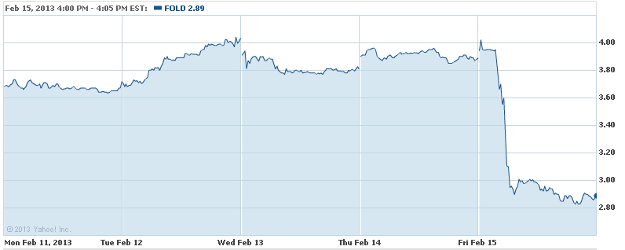 Don't Miss: Wal-Mart Takes Center Stage Amid Sales Concerns.