4 Healthcare Stock Stories Supporting Investment Wellness
Cardiome Pharma Corp. (NASDAQ:CRME): Closing price $5.84
Cardiome Pharma said Thursday that a publication titled – Pharmacological Cardioversion of Atrial Fibrillation with Vernakalant: Evidence in Support of the ESC Guidelines – was published in Europace, the official Journal of the European Heart Rhythm Association, and has been made available in the advanced online article access section. The authors conclude that Brinavess represents an efficacious and rapidly-acting pharmacological cardioversion agent for recent-onset atrial fibrillation that can be used first line in patients who have little or no underlying cardiovascular disease, and in patients with moderate disease, like stable coronary and hypertensive heart disease.

Forest Laboratories Inc. (NYSE:FRX): Closing price $51.16
Forest Laboratories and Gedeon Richter Plc. have announced that the FDA issued a complete response letter concerning the new drug application for cariprazine, an atypical antipsychotic for the treatment of schizophrenia, and for the acute treatment of manic or mixed episodes linked with bipolar I disorder in adults. In the complete response letter, the FDA acknowledged that cariprazine clearly exhibited effectiveness in the treatment of schizophrenia and mania connected with bipolar disorder. However, the Agency indicated that more information, including additional clinical trial data, would be required.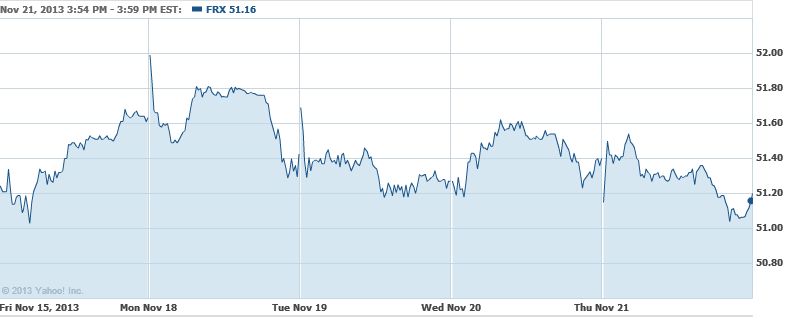 AstraZeneca Group Plc. (NYSE:AZN): Closing price $54.99
Shares in Swiss biotech firm Actelion jumped on Thursday after broker Citi wrote in a research note that the British pharma group AstraZeneca might be interested in buying it, commenting that, "Creative corporate finance, coupled with 'long runway' acquisitions such as Actelion could provide a useful bridge to organically fuelled growth." The analysts also called Actelion an "intriguing potential target" for AstraZeneca, observing that the acquisition of Actelion could raise operating profits by 12 percent without endangering the dividend.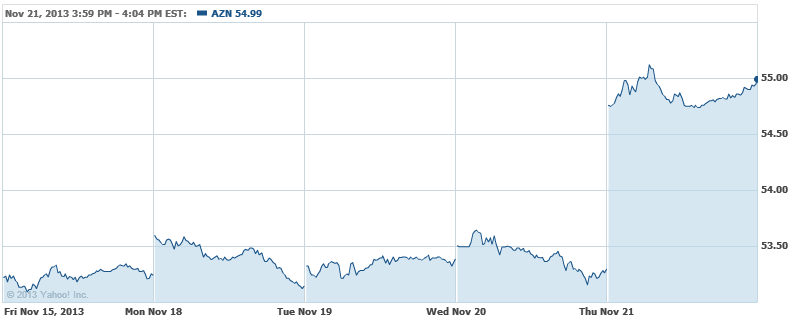 Actavis plc (NYSE:ACT): Closing price $162.97
Actavis reported that it has finished the restructuring of the U.S. Specialty Brands sales organization, after the completion of the purchase of Warner Chilcott on October 1. All told, Actavis Specialty Brands will have a sales organization comprised of roughly 750 United States sales professionals, including sales representatives, district managers, national account managers, and associated management versus a combined total of some 1,100 legacy Actavis and legacy Warner Chilcott sales professionals present at the close of the acquisition.
Don't Miss: The 9 Most Successful Women in Music Right Now.